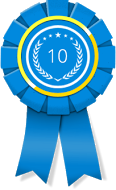 NEW YORK (PRWEB) October 26, 2018
For October 2018, 10 Best Design is pleased to announce its Best Web Design Firm award winners. The top two contenders for this month's award included Ruckus Marketing and Blue Fountain Media.
Choosing the best web design firm ensures that a company will enjoy more traffic and longer visits. Site design services are not only important because of the impression that they make on consumers, but they also play a leading role in the level of authority, confidence and trust that the company itself inspires in consumers. That is why the 10 Best Design agency has implemented a brand-new monthly award for the best website development agency. They set up this award as a way to honor some of the nation's top performers in web development. Company managers and owners may refer to this list when searching for a reliable agency to build a new site or upgrade their existing one.
Ruckus Marketing, the leading web design firm, earned top honors for its website development service. The firm's staff also has a 99 percent customer satisfaction rating from its past and current clients. Ruckus Marketing's team delivers exemplary service in the area of responsive site design. They are able to upgrade sites that were not responsive. This helps clients to maintain contact with consumers who primarily access the internet with mobile devices. Ruckus Marketing also includes SEO in the architecture of sites, which helps clients get found by search engines. The honorees are sure to change on a monthly basis, which is why it is important to come back often to see which companies have earned one of these new monthly awards from 10 Best Design.
Another firm that earned this new monthly award for the best website development agencies is Blue Fountain Media. Located in New York City, Blue Fountain Media's staff performs excellent work in the area of eCommerce site design services. They are able to upgrade a site so that consumers can buy items from the client. Blue Fountain media is a large firm with as many as 250 web developers working there. The firm's satisfaction rating for general website design services is 99 percent.
Spinx Digital is also one of the award winners for its top-notch website design services. The firm has earned a 98 percent satisfaction rating from small, medium and large-sized companies that have contracted with them for new sites. Being a top web design firm, Spinx Digital specializes in responsive site design services. This is a smaller firm of web developers with a staff of up to 50 full-time programmers.
For more information about this month's winners, please visit http://www.10bestdesign.com.