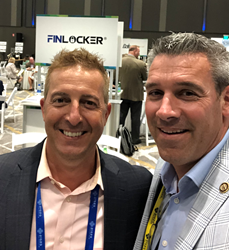 Our distribution of lockers supports PRMG in carrying on a 10-year tradition.
CORONA, Calif. (PRWEB) February 19, 2020
PRMG and FinLocker recently announced a strategic partnership that provides PRMG consumers with free access to FinLocker's personal financial assistant technology.
FinLocker, a Consumer Engagement Platform, delivers a reusable financial locker with personal finance tools to ready consumers for a home purchase or refinance by securely capturing and analyzing financial data, such as employment, income, assets, credit, real estate and other financial information. Through this new strategic partnership, the "locker" has been white labeled in the name of PRMG. With an objective of providing consumers with a tool to assist in mortgage readiness as well as financial literacy and wellness, this collaboration provides 'top of the funnel' support to mortgage originators and serves as a customer for life platform. According to Kevin Peranio, Chief Production Officer at PRMG, they are planning to distribute said lockers through their loan originators to prospective first-time home buyers, as well as through their growing mortgage servicing portfolio. "Our distribution of lockers supports PRMG in carrying on a 10-year tradition of helping originators, for all three delivery channels, retain customers for life," added Kevin.
"My personal relationship with the partners at PRMG is extremely important to me and dates back decades with the founders, Paul Rozo and Robert Holliday…. PRMG has also built a successful company and reputation that focuses on superior customer experience, in addition to supporting originators with innovative solutions," added Brian Vieaux, FinLocker President.
Vieaux continued, "Built by Originators for OriginatorsTM, PRMG shares our vision of innovation by leveraging sophisticated solutions to best serve PRMG originators and customers. This relationship will not only provide a unique value to PRMG consumers, but it also further reinforces the FinLocker mission to "Enable people to achieve the dream of homeownership and financial well-being."
About FinLocker
FinLocker empowers consumers to Start, Achieve, and Continue their Homeownership Journey. FinLocker is a secure, transactional personal financial management tool that aggregates a consumer's financial data., It also analyzes, recommends, and streamlines mortgage and other financial transactions. Consumers benefit from personalized recommendations, credit score reporting and monitoring, financial and mortgage education, as well as cash flow analysis, budget planning, data sharing and more. Financial service providers utilize FinLocker to generate leads, cross-sell value add products, reduce costs, and create customers for life. The company is headquartered in St Louis, Missouri. For more information, please visit http://www.FinLocker.com or email brian.vieaux@finlocker.com.
About PRMG
For nearly two decades, Paramount Residential Mortgage Group Inc. (PRMG), http://www.prmg.net. has continued to be a leading lender in the mortgage industry. As a privately held mortgage banker and residential home lender, PRMG has successfully helped many borrowers purchase and refinance their homes throughout the United States. The goal at PRMG is to provide customers with innovative products, cutting edge technology and industry-leading customer service.
Today, PRMG is ranked within 25 of the Top 100 Mortgage Companies in America and employs over 2,000, with nearly 180 branches throughout the United States. PRMG is known for its unique "company culture". The work environment is corporate-casual and comprised of highly motivated and knowledgeable business professionals with team-spirit and strong core-values that transcend throughout the company. PRMG provides opportunities for career growth and advancement to employees at all levels. In addition, PRMG offers excellent benefits and competitive compensation structures.