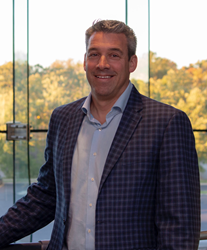 Vieaux adds a clear vision for furthering FinLocker's value proposition for our banking and mortgage clientele.
ST. LOUIS (PRWEB) July 09, 2019
FinLocker (http://www.FinLocker.com), a financial data and analytics company, today announced the addition of Brian Vieaux to their executive leadership team. Vieaux joins FinLocker as President, where he will help expand the business development and sales effort for the innovative FinLocker platform. Bringing over two decades of extensive experience with bank-owned lending institutions, Vieaux will add a deep understanding of product innovation and collaboration when leveraging customer financial data analytics across depository, lending and consumer bases. His experience and breadth of industry presence will assist in evolving strategy and continued adoption of the sophisticated FinLocker solution.
Brian Vieaux has held meaningful executive leadership roles with CitiGroup, IndyMac Bank, Aurora Bank, and most recently the acclaimed Flagstar Bank. In his roles at each of these organizations, Vieaux has brought strategic change and thought-leadership to the areas of CRA, low-to-moderate lending, mortgage lending, product stratification, and bank-footprint product penetration. The FinLocker leadership team looks forward to leveraging this experience as they continue to expand the FinLocker offering to banks, credit unions, mortgage lenders and other financial institutions looking to innovate their customer financial data analytics capabilities and Fintech offerings.
Vieaux has watched the FinLocker platform grow from inception to its current industry awarded technology stature. He considers this new opportunity as a genuine evolution of his long-standing interest in industry innovation. Vieaux commented, "I'm making an exciting change in my career focus, venturing to a sophisticated Fintech platform," adding, "I've known the FinLocker founders for decades and have held their product in high regard as I've watched it evolve from launch to industry utilization. I am genuinely thrilled to be a part of the next phase of their product offering and expansion."
Vieaux notes that his most recent tenure with Flagstar Bank has been immensely impactful in shaping his experience and passion for operational improvement through collaborative technology, both B2B and direct to consumer. He will be the first to tell you that he is not leaving Flagstar, but rather evolving his relationship with their management team as they pursue utilization of the FinLocker product that Vieaux will now represent.
Peter Esparrago, FinLocker CEO and Co-founder stated, "We are thrilled to have such a well-regarded industry executive join our leadership team." Esparrago also remarked, "Vieaux adds a clear vision for furthering FinLocker's value proposition for our banking and mortgage clientele, and an understanding of the importance of developing innovative products that can be leveraged throughout the customer financial lifecycle."
About FinLocker
FinLocker is a lead generation, cross-selling, and customer for life data platform for banks and other financial institutions. FinLocker is a personal financial assistant tool that captures consumer financial data, then analyzes, recommends and streamlines financial transactions, including mortgages, student loans, auto loans and other consumer transactions. FinLocker partners with financial institutions to provide the consumer with a re-usable financial locker that helps consumers manage their financial life, save money via personalized recommendations, achieve goals such as home ownership, and much more. The company is headquartered in St. Louis, Missouri. For more information, visit http://www.FinLocker.com.