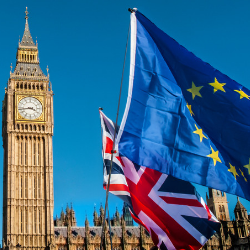 "If additional surcharges are imposed on card payments, it's the merchant who feels the pain of lower payments and revenues—not to mention the friction created between merchants and customers by the banks and networks."
TAMPA BAY, Fla. (PRWEB) April 30, 2019
Assuming certain conditions are met, the United Kingdom now has until October 31 of this year to finalize the terms of its long-delayed and contentiously argued withdrawal from the European Union.[1] Monica Eaton-Cardone—an entrepreneur and IT executive specializing in risk management and fraud prevention—notes that as this drama plays out, there are growing concerns over Brexit's potential impact on international payments and credit card networks. Eaton-Cardone says merchants must be prepared to pivot at a moment's notice with regard to changing regulations, obstacles to trade, and even stalled revenue streams, and take proactive measures to protect their business.
Adherence to EU-imposed caps on interchange fees would no longer be required post-Brexit, allowing Visa and Mastercard to set their own interchange fees in the UK. Based on current international card rates, Dublin-based Bankhawk projects these interchange fees would be significantly higher than those charged for current intra-regional (EU) transactions.[2] Other industry observers suggest that possible effects of post-Brexit legislation may include import tariffs on goods and services, increased shipping and merchandise/fulfillment costs, and customs arrangements, which could create a competitive disadvantage for eCommerce merchants.[3]
"Brexit could have massive ramifications for the retail and payment industries, so eCommerce merchants can't afford to sit idly by and wait to see how the market shakes out," says Eaton-Cardone, who serves as Chief Information Officer (CIO) of Global Risk Technologies and Chief Operating Officer (COO) of Chargebacks 911. "If additional surcharges are imposed on card payments, it's the merchant who feels the pain of lower payments and revenues—not to mention the friction created between merchants and customers by the banks and networks."
As we approach the third anniversary of the original referendum authorizing Brexit (June 23, 2016), uncertainty continues to reign. If the British Parliament is able to reach agreement on an amended set of exit terms, and the British government succeeds in negotiating those amended terms with the European Union, Brexit could take place relatively quickly. If Parliament is not able to agree on amended terms (something it has failed to do three times already), but the UK participates in next month's European parliamentary elections, a spectrum of outcomes becomes possible, ranging from a no-deal Brexit to full renegotiation to abandoning the whole idea and remaining in the EU. The current deadline extension to October 31 presumably allows time for one of those outcomes to prevail. If, however, Parliament fails to agree on a deal and the UK does not participate in the coming European parliamentary elections, a default no-deal Brexit will take place June 1.[4]
In the meantime, Eaton-Cardone advises UK-based eCommerce merchants to take steps to hedge against any potential post-Brexit fallout:

Think about international expansion. Increase your revenues by making sure your online store is accessible globally.
Make the different currencies visible. If the British pound sterling continues to be weaker than the euro or the U.S. dollar, make sure your platform allows customers to pay in different currencies.
Consider moving. If you believe that the effects of Brexit could seriously hurt your business, consider moving to an EU member state.
Keep a flexible shipping policy. If you export to any EU country, make sure your policy can be adjusted to compensate for additional costs.
Update your technology. You may need to grow your business outside the EU and the UK. Prepare your technology to deal with international markets.
Minimize preventable losses. Implement multi-layered fraud solutions to combat both criminal fraud and chargeback fraud, and conduct a compliance review to make sure overlooked errors aren't undercutting your bottom line.
Monica Eaton-Cardone frequently discusses fraud prevention, FinTech and security best practices at industry conferences and events. She has been a featured panelist at TRUSTECH, the IATA World Financial Symposium and TRANSACT, and is also available for interviews, panelist opportunities and future speaking engagements. She will be attending the Women in Stem Conference 2019 on May 22 in London, UK. For more information, visit http://monicaec.com.
About Monica Eaton-Cardone:
An acclaimed entrepreneur, speaker and author, Monica Eaton-Cardone is widely recognized as a thought leader in the FinTech industry and a champion of women in technology. She established her entrepreneurial credentials upon selling her first business at the age of 19. When a subsequent eCommerce venture was plagued by revenue-leeching chargebacks and fraud, Eaton-Cardone rose to the challenge by developing a robust solution that combined human insight and Agile technology. Today, her innovations are used by thousands of companies worldwide, cementing her reputation as one of the payment industry's foremost experts in risk management, chargeback mitigation and fraud prevention. As CIO of Global Risk Technologies and COO of Chargebacks911, Eaton-Cardone leverages her global platform to educate merchants on best practices in fraud prevention and to spotlight the competitive and economic advantages women can bring to the technology workforce. Her nonprofit organization, Get Paid for Grades, invests in students to inspire a new generation of innovators. Get to know Eaton-Cardone at http://monicaec.com.
1. "Brexit: Your simple guide to the UK leaving the EU," BBC News, April 11, 2019.
2. "How Brexit may impact merchants," Bankhawk, July 8, 2016.
3. "What does Brexit mean for e-commerce?", ChannelEngine, March 22, 2019.
4. Barnes, Peter, "Brexit: What happens now?", BBC News, April 11, 2019.