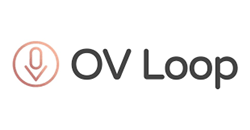 "OV Concierge helps brands better convert sales and build loyalty across their existing channels without expensive POS or website changes."
LAS VEGAS (PRWEB) October 25, 2021
OV Loop, a next generation connected commerce enabler, today announced the launch of OV Concierge, a patented omnichannel commerce messaging and rewards solution to help brands better convert, support, and retain today's modern consumers.
Founded by Will Graylin, a pioneer of Web2.0 mobile point-of-sale (ROAM Data, Ingenico) and mobile wallets (LoopPay, Samsung Pay), OV Loop is now deploying a Web3.0 private super wallet for consumers, and an omnichannel super messenger and rewards platform for brands called OV Concierge.
OV Concierge helps brands convert more sales and build more loyalty. This patented solution lets brands send 3-in-1 interactive offers or invoices across existing channels, via email, text, social, call centers, chats, QR codes. These 3-in-1 super messages allow customers to not only see the detailed offer or bills, but resolve questions without leaving the message using a 1-tap/handsfree voice powered chat support. When the customer is ready to buy or pay, the built-in POS lets them easily checkout inside the message, and helps them create their own Web3.0 private super wallets for faster safer checkouts in the future. The customer can also receive cash rewards, offers and private chats from the brands if they choose, via the OV Loop app.
"Brands are constantly seeking ways to engage, support, and transact across fragmented channels, competing for customer attention and loyalty with today's outdated tools, resulting in poor user experiences," said Graylin. "OV Concierge helps brands better convert sales and build loyalty across their existing channels without expensive POS or website changes."
OV Concierge is now live with Concierge Chat and Concierge Offers for Shopify merchants and other brands like Binatone Global/Hubble Connected and Northeast Insurance. OV plans to expand adoption through direct sales and partnerships such as merchant service providers and billing service providers. OV plans to launch Concierge Rewards in Q1 2022 to help brands send instant cash disbursements and rewards, redeemable online or in stores with no POS changes. This rewards solution will improve sales conversion, and let brands better engage and transact with customers via their private Web3.0 super wallet and chat app, as a new bi-directional consent private commerce channel, free of spam.
OV Loop app is a private wallet & chat super app for consumer control of personal credentials, interactions & transactions. "The OV Loop app will incorporate OV Wallet and OV Chat. It empowers people to manage their credentials with their own lock and key via any smartphone, and use them to Tap & Pay virtually anywhere," said Graylin. "Users can also message friends and brands in OV Loop using their voice with a single tap, or completely handsfree." The OV Loop app is currently in beta and will be available in the first quarter of 2022. OV has also built smart accessories, including the OV Pro Smart Headphone for safer handsfree messaging, and the OV Valet, a Bluetooth payment super card and tracker that works at 94% of existing POS worldwide.
For more information on OV Concierge, OV Loop app, and accessories visit http://www.OVLoop.com.
###
About OV Loop
OV Loop, Inc. is an omnichannel messaging, payments & rewards provider solving today's commerce challenges for brands and people. Founded by the fintech pioneers that started Samsung Pay®, LoopPay®, ROAM Data® and Hypercom®. OV Loop empowers consumers, brands, and financial institutions with tools that facilitate trusted commerce communities. OV Loop delivers integrated digital identity, payments, and messaging services with Web3 blockchain-era security and 3-in-1 consumer messaging capabilities to simplify and modernize the customer commerce journey. 
Media Contact:
Jess Emery Troise
KCD PR
(484) 880-9143
ovloop@kcdpr.com