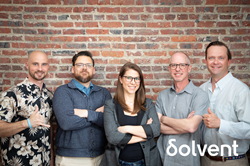 "Solvents long term goal is to fully integrate our products into the entire transactional process. To get there we believe it is important to tackle specific challenges our country currently faces first, such as cannabis, and progress outward from there," said Solvent Co-Founder & CEO Tony Richards
ANNAPOLIS, Md. (PRWEB) July 16, 2019
Solvent, a Maryland based fintech company, is revolutionizing banking and payments by empowering financial institutions to be the 'Authority on Identity.' Today the company announced $850K in Seed Round funding led by B&B Partners, a Chicago based VC firm that focuses on alternative vehicles to achieve a high alpha return on investment. The funding will allow Solvent to round out the engineering team and go-to-market with a SaaS Risk Management & Compliance Platform for financial institutions, as well as CBD and THC credit card enabled merchant services by the end of 2019.
Today's financial institutions are being held to unrealistic expectations. Fraud has become the bank's responsibility, and in this digital age, institutions are not equipped with the tools to mitigate fraud, especially in high-risk industries like cannabis. As early as 2014, the Department of Treasury, most specifically the FinCEN (Financial Criminal Enforcement Network) located in the Department of Treasury, has created a list of guidelines for cannabis-related businesses and financial institutions to operate–contingent cannabis is legal in that state. These guidelines make it nearly impossible for banks and credit unions to maintain compliance around merchant services due to the lack of financial technologies that exist in the marketplace.
According to the Department of Treasury, the cannabis problem is a top priority. The U.S. has a divided stance regarding cannabis, and while Solvent doesn't take an official view on it, it's still considered a highly criminal and fraudulent space to operate in as a financial institution. Even with future regulation at the state level, the cannabis problem will remain as long as the Federal Government views cannabis as a schedule 1 drug. Solvent is bridging the compliance gap for banks and credit unions operating in the cannabis space while educating them on ways to integrate Solvent's technologies to gain transparency and reduce risk along their rails.
"Solvents long term goal is to fully integrate our products into the entire transactional process. To get there, we believe it's important to tackle specific challenges that our country currently faces, such as cannabis, and progress outward from there. This allows Solvent to establish our value proposition with our banking partners and begin creating strategic relationships in markets that would allow us to leverage our technologies to serve other industries," said Solvent Co-Founder & CEO Tony Richards.
The Seed Round was led by B&B partners, with participation from Edge Ventures, Marigold Ventures, and friends & family. "I look for some level of four variables within any new company I invest in: A customer demand that is in need of serving, a great idea on how to service that demand, a large market to grow the idea within and most importantly a quality team to execute on the idea. Solvent has all four in spades," said Brett Barker, Venture Partner at B&B Partners.
The company has secured several strategic business partnerships that provide a deep network of payment and regulatory constituents. This allows the team to accelerate its go-to-market strategy and leapfrog the competition.
To learn more about Solvent, visit solvent.io
LinkedIn
Twitter
Facebook
Instagram
About Solvent
Solvent, headquartered in Annapolis, MD, is revolutionizing banking and payments by empowering financial institutions to be the 'Authority on Identity.'​ With over 15 years of experience in sales, compliance, enterprise software, and payments, Solvent aims to reduce the risk traditionally placed on institutions by enabling them to serve the legal hemp & cannabis industries. Solvent's technology stitches together big data science, machine learning, and identity verification to create transparency within Solvent's ecosystem that protects institutions during audits with regulating bodies.
Contact:
Brian Meyer, Co-Founder & VP of Business Development
brian@solvent.io
833-765-8685