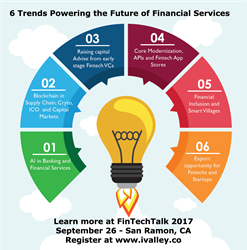 iValley is at the heart of the evolution of emerging technologies, helping domestic and international financial services institutions with FinTech strategy and co-creation with startups.
SAN RAMON, Calif. (PRWEB) August 09, 2017
iValley Innovation Center, a corporate focused FinTech accelerator in the San Francisco Bay Area, will host its annual FinTechTalk conference on September 26, bringing together leaders from financial institutions, technology startups, venture capital, government and academia to exchange ideas make connections and create deals.
The event will be held in the Roundhouse Conference Center next to the iValley shared workspace in the Bishop Ranch office park in San Ramon.
"FinTechs and emerging technologies such as artificial intelligence, blockchain, cryptocurrency and trends like initial coin offerings (ICO) are changing how individuals, businesses and institutions manage their finances. iValley is at the heart of this evolution helping domestic and international financial services institutions with FinTech strategy and co-creation with startups. FinTechTalk is where we bring the entire community together," said Paddy Ramanathan, founder and managing director of iValley Innovation Center.
FinTechTalk this year will explore how financial services and startups can collaborate in these emerging technology areas, as well as the big risks and opportunities going forward. The conference also will highlight the export opportunity for startups.
More than 30 industry leaders are speaking at the conference. Key speakers include
● Henry Chesbrough, professor at UC Berkeley Haas School of Business; faculty director at Garwood Center of Corporate Innovation at Haas School of Business; and author of the best-selling book Open Innovation
● Paul J. Thanos, director for Finance and Insurance Industries at U.S Department of Commerce. Recently served as the inaugural global trade and investment fellow at the Woodrow Wilson International Center for Scholars in Washington, D.C.
● Joey Krug, co-chief investment officer of Pantera Capital's cryptocurrency focused hedge fund
● Jennifer Banner, lead director of BB&T Corporation; and past director of The Federal Reserve Bank of Atlanta
● Michael Gardner, managing director of BNY Mellon Innovation Center in Silicon Valley
"Open innovation requires large firms and startups to work together. FinTech is a perfect case in point. The agility and speed of a FinTech startup needs to connect to the scale and process skills of the large firm. To do this, the large firm needs to embrace a logic of influence, rather than control, in working with the startup," said Chesbrough who will deliver one of the keynote addresses focusing on how incumbent financial institutions can (and cannot) work with FinTechs and startups around their corporate innovation goals.
Last year more than 350 people attended FinTechTalk. More financial institution executives and decision makers, startup CEOs and early stage venture capitalist are attending this year.
Key conference agenda streams include:
● Artificial intelligence in financial services
● Core modernization, APIs and FinTech app stores
● Distributed ledger technology / cryptocurrency and ICOs
● Next wave of emerging payments and robo advisors
● Early stage fundraising for FinTechs and export opportunities for startups
FinTech company CeleritiFinTech, and Kyndi, an artificial intelligence product and solutions company, are among the sponsors of the event.
"As a part of our Core Banking modernization offerings, we are partnering with iValley and building a FinTech app store on top of our Hogan Core Banking suite. We will showcase that with our partner FinTechs at the conference. This will allow our global bank clients to take advantage of our growing CeleritiFinTech Innovation Ecosystem by adopting off-the-shelf, fully certified and fully integrated Hogan banking digital innovation apps," said Oded Shoshany, chief executive officer of CeleritiFinTech, who is a platinum sponsor of FinTechTalk.
"The opportunity to apply artificial intelligence in banking and financial services is enormous. The big assumption in statistics, and all of machine learning, is that data are not connected in any way, which does not hold in real world conditions like lending and capital market activities. I look forward to engaging with financial services executives at the conference to understand more about the key questions they are asking of their data and discussing ideas about how to address those key questions." said Ryan Welsh, chief executive officer and founder of Kyndi, who will be speaking about Artificial Intelligence at the conference.
The full list of speakers and agenda can be viewed here.
ABOUT iValley
iValley Innovation Center (http://www.ivalley.co) is a corporate FinTech accelerator in East San Francisco Bay Area. iValley provides agility and direction to financial institution by allowing them to tap into and co-create with an ecosystem of startups to maintain a continuous focus on innovation.
ABOUT CeleritiFintech
CeleritiFinTech, an HCL DXC Technology Company, delivers banking software and services company to global banking clients. http://www.celeritift.com/.
ABOUT Kyndi
Kyndi's proven artificial intelligence (AI) products and solutions give organizations an edge in a fiercely competitive world. Our natural language understanding technology helps business and governmental customers anticipate future intentions, opportunities and threats. This allows them to create fully auditable knowledge faster and then act decisively on it to compete and win. With Kyndi's AI-based platform, customers achieve strong ROI by dramatically amplifying productivity so they can generate the critical answers and intelligence they need to succeed. Based in Silicon Valley, Kyndi is backed by leading venture investors. For more information, visit http://www.kyndi.com.