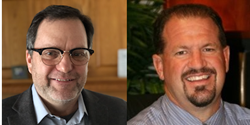 Fiplex is experiencing an exciting period of growth
MIAMI (PRWEB) February 13, 2020
Fiplex announced today the expansion of its in-building public-safety solutions team to capitalize upon the Emergency Responders Radio Coverage Systems (ERRCS) market growth opportunity. Kevin Persing and Ken Haberer have joined Fiplex as part of the company's strategic initiative which includes investments in new product innovation, operational and fulfilment efficiencies, and personnel to address accelerating code adoption and to support the Authority Having Jurisdiction (AHJ) need for compliant communications solutions.
"Fiplex is experiencing an exciting period of growth, said Ron Pitcock, Chief Executive Officer at Fiplex. "Both Kevin and Ken will play a significant role in our go-to-market strategy by leveraging their proven track records and industry reputations to support customers and partners with innovative, flexible and high-performance code-compliant indoor public-safety communication solutions."
As one of the industry's first ERRCS manufacturers, Fiplex solutions have been deployed extensively worldwide by leading fire safety organizations, integrators and low voltage contractors to enable public-safety communications inside buildings and venues including some of the best-known metros and airports. With a focus on public safety, Fiplex provides cost-effective and easy to deploy mission-critical solutions for all jurisdictions and building types.
Kevin Persing possesses over 30 years of public-safety wireless communications experience which includes an acumen of technology and code compliance requirements as well as an in-depth understanding of the first responder experience and the challenges facing jurisdictions in adopting and deploying solutions. Kevin is an active board member of the Safer Building Coalition, a public-safety communications industry association, and a vigilant advocate for ERRCS.
For over 25 years, Ken Haberer has focused on driving innovative public-safety wireless communications technology solutions to meet evolving model fire codes produced by the International Code Council (ICC) and the National Fire Protection Association (NFPA). Ken brings to Fiplex a level of Radio Frequency (RF) engineering expertise and industry knowledge that is in short supply in today's market. He is a trusted customer-facing resource who provides unbiased insight to the entire public-safety ecosystem from the latest code to the proper design and deployment of RF solutions.
"We are delighted to welcome these highly-respected subject matter experts to our organization," said Matias de Goycoechea, Chief Technology Officer and Chairman of the Board at Fiplex. "Kevin and Ken will play pivotal roles as we continue to grow share in the global indoor public-safety communications market."
Kevin Persing and Ken Haberer will support the West and East sales regions for Fiplex, respectively, and will represent Fiplex at booth #1152 at IWCE 2020 March 30 – April 2, 2020 in Las Vegas, Nevada. For more information, contact us at info@fiplex.com.
About Fiplex Communications, Inc.
Fiplex is an RF innovation leader with over 30 years of experience engineering, designing and manufacturing wireless solutions and products. Known for its public safety in-building BDA's and Fiber DAS solutions, the Fiplex portfolio provides high quality, robust, regulatory-certified solutions that ensure first responder communications and building occupant safety. With products successfully deployed in 28 countries, Fiplex Communications, Inc is a proven and trusted partner across the entire wireless ecosystem.