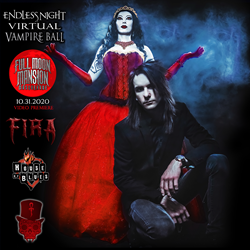 FIRA, the vampire-inspired theatrical dance metal duo, will premier their new music video for their single "Endless Night" on the Endless Night Virtual Vampire Ball on Halloween Night 2020
NEW ORLEANS and LOS ANGELES (PRWEB) October 14, 2020
Endless Night and the House of Blues New Orleans are proud to announce FIRA, the vampire-inspired theatrical dance metal duo, will premier their new music video for their single "Endless Night" on the Endless Night Virtual Vampire Ball on Halloween Night 2020 at 11 p.m. CST (9 p.m. PST, 12 a.m. EST). Pre-order sales of their upcoming debut album "From Vegas With Blood" will be made available on Halloween night in celebration of the music video premiere.
As a reminder, this year's Vampire Ball theme is "Full Moon Masquerade," which will include immersions and entertainment while hosted by Fred Samedi, the guardian spirit of the Endless Night events, as the Master of Ceremonies.
"I attended the first LA Endless Night Vampire Ball in February 2017 after seeing an ad and buying a general admission ticket," said Hannah Fira, lead singer for FIRA. "When I walked into The Globe Theatre it was absolutely magical. I felt such a sense of belonging, unlike anything I'd ever felt before. I remember thinking 'these are my people and I want to be a part of this!' I made it my goal to perform on that stage. I feel so proud to have accomplished that and to premiere such a beautiful video of our debut on the Endless Night stage. Thank you Father Sebastiaan for this honor!"
FIRA is currently offering a free download of the "Endless Night" single at their website: http://www.FIRA.rocks The trailer for the music video can be found here: https://youtu.be/Uklw9dXS72w
As previously announced, here are other attractions that can be expected at the event:
DJs Matt V Christ and Aengel will spin right from the main stage at the House of Blues NOLA
Local and international burlesque performers featured throughout the evening!
Virtual Vampire Bazaar has already kicked off for the month - October 1st to 31st - http://www.facebook.com/groups/vampirebazaar
Virtual Vampire Best Dressed Contest hosted by JoHanna Moresco of the Cruxshadows - Oct 5 to 20 though the EN FB group http://www.facebook.com/groups/endlessnightvampireball
"Full Moon Mansion" our immersive VIP Vampire Salon will take place Friday - October 30th 9:30 p.m. to 1:30 a.m. CST
Voodoo Queen Bloody Mary will be hosting our opening and closing ceremonies.
Storyteller Cedric Whittacker and Fright Night NOLA will be hosting a tour of the mysteries of New Orleans.
A portion of all ticket sales will be going to DontbeaMonster.org an anti cyber bullying charity! And much more, which will be announced throughout the month!
SPECIAL NOTE ABOUT TICKETS:
Everyone who has tickets for the Samhain 2020 (postponed to October 30th 2021), the Tampa Vampire Ball 2020 (postponed to April 2021) and the Salem Vampire Ball 2020 (postponed to October 16th 2021) will receive a free ticket to this year's Virtual Vampire Ball. VIP tickets will include the Full Moon Mansion, which includes an immersive Zoom event on Friday October 30th!
For those who do not have tickets to these events tickets are $20 singles, $30 couples and $50 for household watch parties. Get your tickets at the portal here: http://portal.endlessnight.com
A MESSAGE FROM FATHER SEBASTIAAN
"My first memories of Hannah at her first Endless Night years ago, she was a vampire seeker full of dreams in her eyes. Since this time, I've watched those dreams take shape before my eyes. She has grown into a vampire princess and with the release of her first full album she will step forth on stage as a rock queen known as FIRA! The evolution is clear. Congratulations my nadja! Hail FIRA!"
Endless Night Portal - http://portal.endlessnight.com
Instagram - http://www.instagram.com/endlessnightvb
Tickets - http://portal.endlessnight.com
YouTube - http://www.youtube.com/endlessnightvampireball
Facebook Group - http://www.facebook.com/groups/endlessnightvampireball
Facebook Page - http://www.facebook.com/endlessnightvampireball
Bazaar - http://www.facebook.com/groups/vampirebazaar
Ball - https://www.facebook.com/events/1093123274044217
Online store for merchandise - http://www.vamporium.shop
ABOUT FIRA:
FIRA is a popular vampire-inspired musical duo who've created an original blend of metal and dance music around a fantasy storyline. The band is made up of the talented frontwoman Hannah Fira and exceptional guitarist Michael "Vette" Rodd. Their debut album, "From Vegas With Blood," is set to release by the end of 2020, and includes songs such as "Endless Night," "With Blood," and "Vegas in Space". The album is written with a plot that follows the characters "Fira" and "Vette" as they set off on an adventure to save their realm.
FIRA is quickly becoming a fan favorite in the goth music scene. Established in 2017, this duo solidified their place in the scene after headlining the prominent goth music venue "Bar Sinister" in Los Angeles. They've shared the stage with legendary goth rock band Orgy at the Los Angeles Endless Night Vampire Ball and their song "Endless Night" has also been featured as the opening theme song for the Endless Night Radio Show (https://endlessnight.com/radio) on DashTalkX radio. Over the years, they've played shows throughout the pacific southwest and built a consistent following in Las Vegas and Hollywood. FIRA has expanded their reach across the United States by performing at the New Orleans House of Blues in 2019, and across the world with an international tour in Italy. The band is continually growing their massive following in the gothic and alternative communities. It can truly be said that FIRA is "made of music and fire!"
PRESS CONTACT:
Nicole Rodrigues and Erin Hartung
NRPR Group for Endless Night
nicole@nrprgroup.com and erin@nrprgroup.com