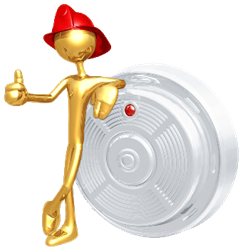 A home detector is a security device that every homeowner should have and replace when necessary.
Phoenix, Arizona (PRWEB) November 15, 2013
No home should be without smoke detectors—they are one of the best ways to protect a family, and they're an absolute necessity that all too many homeowners overlook in their safety and security preparations. Many home alarm system companies offer smoke detectors as part of their security packages, or homeowners can purchase smoke alarms independently.
Most smoke alarms are a type of wireless alarm system, meaning they're operated by battery, which is ideal because they'll continue to function, even in the event of a power outage. The downside to this is that homeowners have to remember to change the batteries on a regular basis.
The home security and safety professionals at AlarmSystemReport.com, a site that provides reviews of top companies like FrontPoint reviews, has created a list of tips for homeowners to use when choosing smoke alarms.
1. Look for a detector that has both ionization and photoelectric sensors. This will allow the device to detect different types of fire, which means more protection is provided.
2. Choose a detector with easy installation, unless it's going to be professionally installed as part of a home security system. The easiest units to install are those that are battery-powered, versus hard-wired.
3. A silencing feature is a good addition to a smoke detector. This means homeowners can turn the alarm off if it goes off by mistake, for example when there's cooking smoke.
4. Some cities and states have regulations about the type of smoke detector a home must have, so consumers should look into these regulations before making a decision.
5. It may be a good idea to look for a smoke detector that also has the ability to serve as a carbon monoxide detector. These combination units can save money and space, and provide valuable life-saving benefits.
6. Many retailers and security companies offer package deals for consumers who buy several smoke detectors at one time, and this is important, because one smoke detector probably isn't going to provide adequate protection for a home.
7. Replace all smoke detectors at once—this will help a homeowner remember when it's time to change the batteries for all of the units, and it will also ensure all units are working properly.
8. Consider buying interconnected smoke alarms as part of a security package. This will allow for communication between the home's security system, and monitoring can also be provided as part of a package.
9. Smoke alarms should be tested and cleaning on a monthly basis. Dirty alarms might not work properly.
About AlarmSystemReport.com
Whether a consumer is searching for information about New York security systems, or the vastly different Wyoming security systems, AlarmSystemReport.com is the premier resource in the home alarm industry. The site provides state-by-state reviews and rankings of top companies and serves as a great tool for consumers considering the purchase of a home alarm system.