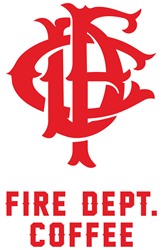 "I am forever humbled by the sacrifice of those men and women who answered the call on September 11," said Patton. "Not only is this climb a poignant way to recognize the fallen, it's also an opportunity to uplift the living."
RIVIERA BEACH, Fla. (PRWEB) July 23, 2019
Jason Patton, Florida-based Firefighter, Fire Dept. Coffee Vice President, and co-founder of the Fire Dept. Coffee Foundation, is preparing his body and mind to climb 110 flights of stairs for the San Antonio 110 9/11 Memorial Climb on September 11, 2019, in San Antonio, Texas.
The event is a memorial to the 343 fallen firefighters who lost their lives in the line of duty on September 11, 2001.
Never one to let a charitable opportunity slip by, Patton recognized the climb as an opportunity to raise support for the Tommy Cullen Foundation, an organization that supports families of firefighters battling cancer. Learn more at http://www.tommycullenfoundation.com.
"I am forever humbled by the sacrifice of those men and women who answered the call on September 11," said Patton. "Not only is this climb a poignant way to recognize the fallen, it's also an opportunity to uplift the living."
While participants are encouraged to wear their firefighter gear as they climb the symbolic 110 floors of the World Trade Center Twin Towers, Patton decided to take it a step further. For every $500 he raised for his charity, Patton pledged to add 10lbs of weight to his climb.
This means that on 9/11 Patton will be going to the top weighing approximately 350lbs compared to 255lbs--the weight of the average firefighter in gear.
"If anyone can make it to the top with all that extra weight it would be Jason," said Fire Dept. Coffee Founder Luke Schneider. "He's a funny guy with a big heart and the determination of 10 men."
Patton has already begun his training, and will be climbing 2-3 times per week in Riviera Beach, Florida, at the Tiara Condominiums on Singer Island. Visitors are welcome to train alongside or stop by to check out his progress. For weekly video updates, follow @FireDeptCoffee on Instagram.
Fire Department Coffee donates 10% of all proceeds to the Fire Department Coffee Foundation which supports first responders who are injured on the job, mentally or physically, or who are facing other serious health challenges.
For more information, visit http://www.firedeptcoffee.com or contact Brooke Daily at brooke@veteranpr.com.
About Fire Dept. Coffee:
Luke Schneider launched Fire Dept. Coffee in July of 2016 with the mission to make great coffee with an even greater mission to support our nation's heroes in need. 10% of proceeds from every order goes towards supporting ill or injured firefighters and first responders. Connect with Fire Dept. Coffee on social media by following @firedeptcoffee on Facebook, Instagram, and Twitter.