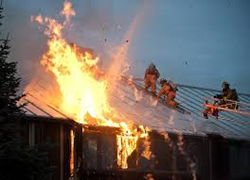 The loss of property is a grim reminder that security – whether from fires or criminal behavior – is not a matter that can be taken for granted,
DENVER (PRWEB) August 07, 2019
A July 8 article on ABC 13 Houston detailed a fire at a construction site in the Southeastern Texas city. In the very early morning, two construction excavator vehicles caught fire and were completely destroyed. Luckily, no people were present to be harmed in the blaze but the damage is expected to cost upwards of $500,000. Denver-based security company United Protective Services says that the loss of property is a grim reminder that security – whether from fires or criminal behavior – is not a matter that can be taken for granted, and such steps as fire watch patrols are therefore a constant necessity.
The security firm notes that construction sites tend to be literal hotspots for fires breaking out, as volatile materials, power tools, space heaters, and high traffic areas tend to be an outstanding medium for the development of accidental fires. The firm notes that the NFPA estimates that in 2017 as many as 56 people were killed or harmed and as much as $172 million direct property damage occurred as a result of construction fires. In short, the security company notes that fires are not only likely to occur at unprotected sites, but they can be extremely costly in terms of both lives and investments.
United Protective Services says that fire patrols can keep a watch on properties around the clock, protecting investments and lives from fires. More than that, the company offers comprehensive security services that protect those lives and property from both internal and external threats whether it's minor thefts, vandalism, or shoplifting. The security firm says that it is also ready to stand against more serious criminal issues in the very unlikely event that they occur. More often than not, simply having a security presence can deter would-be thieves or other criminal types from engaging in nefarious activities.
United Protective Services is quick to point out that the best security services are not only exceptionally equipped for the job with modern technology and techniques, but that they also do not impair the functions and operations of the facilities and sites that are being protected. The firm points out that there is little point for a company to hire security if that same protection ends up preventing the very same operations they are supposed to safely and securely enable. That is why the company says it trains its security teams to maintain a visible, yet low profile presence, giving companies the protection they require without compromising daily activities.
For more information on Unite Protective Services many offerings including security details and fire watch patrols, readers are invited to visit their website at https://www.unitedprotectiveservicesllc.com/ or call (720) 900-9101.