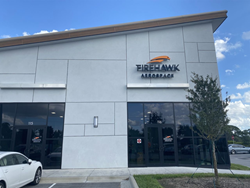 MELBOURNE, Fla. (PRWEB) November 24, 2020
Firehawk Aerospace, a fast growing rocket propulsion startup, announced today that it has closed a $2 million seed round. The round is led by members of the Victorum Capital Club and includes additional investments from Achieve Capital and Harlow Capital Management.
"Firehawk Aerospace has achieved a new level of performance for hybrid rocket engines through our patented 3D-printed rocket fuel," said Will Edwards, Co-Founder and CEO. "Firehawk Aerospace will provide a safe, reliable, and affordable rocket engine to power the next-generation of satellite launchers, guided reconnaisance systems, lunar transport systems, and manned space systems."
Firehawk Aerospace is providing customizable propulsion systems to make the future of space transportation safer and more accessible. The funds will be used to test Firehawk's engine at operational scale, grow its partnerships with leading government and commercial entities around the world, and expand its research and manufacturing facilities to Texas and Oklahoma.
Firehawk Aerospace was hand-picked among thousands of applicants to participate in Startup Battlefield, the world's preeminent startup competition, at TechCrunch Disrupt 2020. The Company was selected as one of five finalists by a panel of judges including multiple venture capital and tech leaders.
"Firehawk Aerospace has developed a major advancement in rocket propulsion technology – providing a safer and more cost effective solution than other high-performance rocket systems in use today," said James Roller, Managing Partner of Victorum Capital. "We are excited to partner with Firehawk as they scale their technology and reshape the aerospace industry."
To learn more about Firehawk Aerospace, please visit http://www.FirehawkAerospace.com.
ABOUT FIREHAWK AEROSPACE
Firehawk Aerospace develops and manufactures high-performance hybrid rocket engines. Its patented 3D-Ultra rocket technology delivers a stable, cost-effective hybrid rocket fuel that employs additive manufacturing to overcome the hurdles and limitations of previous hybrid fuel engine designs. Firehawk is making space transportation safe, reliable, and affordable. For more information, please visit FirehawkAerospace.com.
ABOUT VICTORUM CAPITAL
Victorum Capital is a regional network of investors and corporate partners focused on identifying, funding, and empowering the most promising entrepreneurs. For more information, please visit http://www.victorumcapital.com.