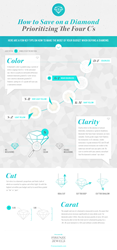 Understanding how a diamond is graded is essential to making the most of your budget.
New York, New York (PRWEB) October 06, 2015
Fall has arrived, which means engagement season is quickly approaching. To help ease the often intimidating process of buying a diamond, New York Diamond District's Firenze Jewels has released an infographic outlining how to save money by prioritizing what is commonly referred to as 'The Four Cs': color, clarity, cut and carat. As the global standard for evaluating the quality of a diamond, these four characteristics provide a way for shoppers and sellers to determine a stone's value and understand why one may be more desirable than another.
Firenze Jewels' new infographic, titled How to Save on a Diamond – Prioritizing The Four Cs offers insight, tips, and guidance on the diamond grading system and details how to find the "sweet spot" in each category to save you a considerable amount of money without sacrificing on a stone's visible quality.
Below are a few key takeaways from the guide:

A diamond's color is graded using a system of letters ranging from D-Z. Colorless diamonds fall within the D-F range and near colorless diamonds fall within the G-J range. There is often room to save a substantial amount by opting for a diamond within the G-J color range.
Clarity refers to the absence of natural blemishes, inclusions or general cloudiness. Diamonds that have fewer inclusions are more valuable. Clarity grade ranges from Flawless (no inclusions), to I3 (obvious visible inclusions). A grade between VS2 and SI1 will contain natural inclusions not visible to the naked eye and will save you quite a bit. Be sure to confirm with your jewelry consultant that the diamond is indeed "eye-clean".
Cut refers to a diamond's proportions and finish, both of which are essential to capture and reflect light. Go with the highest cut within your budget and try to avoid those graded as "fair" or "poor".
The weight and size of a diamond is measured in carats. Be aware that diamond prices increase significantly at every whole carat. For diamonds under 2.00ct, they also increase greatly at every .50 carat. You may be able to trim the total cost of a diamond by going for a .90 - .95 carat instead of a 1.00 carat without a visible difference.
"Understanding how a diamond is graded is essential to making the most of your budget," says Jeffrey Levin, CEO of Firenze Jewels. For those who are new to the world of diamonds or simply need a refresher, the jeweler also has a full guide on The Four Cs on their website.
Firenze Jewels, established in 1937 and located in the 47th St. New York City Diamond District, has become a leading source for fine diamonds and precious gemstones that are crafted by world-class artisans. Those interested in learning more about the jeweler, its new infographic, and the offerings of the company can visit FirenzeJewels.com or call 800-790-6980.
About Firenze Jewels
Family-owned and operated since 1937, Firenze Jewels is located in the heart of the Manhattan Diamond District. Its staff, which includes talented designers as well as a graduate gemologist from the renowned GIA (Gemological Institute of America), collectively bring decades of knowledge and expertise to the jeweler to ensure that every shopping experience is a positive one. Firenze Jewels carries pieces by the world's most popular designers, an extensive collection of GIA and EGL certified diamonds, and elegant collections of wedding bands, engagement sets, and other fine jewelry. More information on Firenze Jewels can be found by visiting http://www.FirenzeJewels.com.