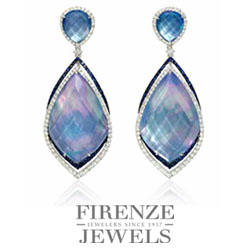 "We are delighted to work with such a talented designer and beautiful line of jewelry."
New York, New York (PRWEB) April 30, 2014
Firenze Jewels welcomes Doves Jewelry to its line of Featured Designers. The Doves Jewelry collection features a remarkable assortment of heirloom-quality pieces inspired by nature, fashion and architectural structures. "We are delighted to work with such a talented designer and beautiful line of jewelry." said Gabrielle Guzman, E-Commerce Director.
Collections such as Ivory Sky, Bella Rose and Viola contain a striking blend of lapis lazuli, amethyst and mother of pearl combined with white topaz gemstones creating unique hues not seen anywhere else. The St. Barth's Blue collection is comprised of turquoise jewelry enhanced with white diamonds. The line is said to be inspired by the crystal seas of the Caribbean. Every piece is designed with meticulous detail and handcrafted by master artisans, making the brand a perfect addition to Firenze Jewels' selection of fine jewelry.
Doves Jewelry is frequently favored by A-List celebrities including Jessica Alba, Jennifer Lopez, Catherine Zeta Jones, Helen Miren, Shakira, Shania Twain and even First Lady of the United States Michelle Obama. Styles range from classically elegant to fashion forward with price points between $400 - $10,000.
Pieces currently available at Firenze Jewels' showroom and FirenzeJewels.com include:
Doves Ivory Sky Collection Diamond, Sapphire, White Topaz, Lapis Lazuli and Mother of Pearl 18k White Gold Dangle Earrings (Style #6631)
Doves St Barth's Blue Collection Diamond, White Topaz, Lapis Lazuli and Turquoise 18k White Gold Pendant (Style #5993)
Doves Bella Rose Collection Diamond, Rose Quartz and Mother of Pearl 18k Rose Gold and Black Rhodium Ring (Style #6644)
Doves Haute Hematite Collection Diamond and Hematite 18k White Gold and Black Rhodium Dangle Earrings (Style #6629)
About Firenze Jewels:
Located in the heart of the New York Diamond District, Firenze Jewels houses the world's leading jewelry designers and highest quality certified loose diamonds. For more information or to learn more about the Doves Jewelry collection, visit http://www.FirenzeJewels.com or follow Firenze Jewels on Facebook (facebook.com/FirenzeJewelsInc), Pinterest (pinterest.com/FirenzeJewels) or @FirenzeJewels on Twitter and Instagram.