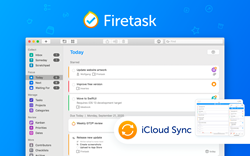 With the extended Today view now automatically showing also all tasks scheduled for today and all tasks that are in progress we get a much more comprehensive view of what is relevant.
EGGERSDORF BEI GRAZ, Austria (PRWEB) October 06, 2020
Elemental Tools today released version 4.5 of its project-oriented task management app Firetask. Firetask combines the advantages of David Allen's Getting Things Done (GTD®) approach with proven concepts from classical task management such as due dates and priorities in a unique way. The new version represents a major update with many features based on direct feedback from end users.
"We are excited to bring project-oriented task management to a whole new level based on the changes we made in our latest update," said Gerald Aquila, co-founder and CEO of Elemental Tools. "With the extended Today view now automatically showing also all tasks scheduled for today and all tasks that are in progress we get a much more comprehensive view of what is relevant. Seeing what we completed today boosts our motivation and the redesigned Kanban view supports weekly GTD® reviews better than ever before."
A Better Focus on Today
Firetask has always only shown actionable tasks from active projects on its Today view that are either due today (or already overdue), or explicitly marked as starred. The new version improves on this concept and now also allows to enter optional start dates for tasks allowing users also to schedule tasks to appear on the Today view at a certain date. Additionally, the update introduces a new "In Progress" section that automatically shows all tasks you are currently working on which will instantly improve your productivity.
Scheduled and Due Dates
In order to facilitate re-scheduling tasks Firetask 4.5 introduces the ability to easily switch between two date modes in the Dates view. The Dates view represents a month-based calendar view that shows tasks by due date in "Due" mode, or by start date in "Scheduled" model. Users can then easily drag & drop tasks between days to adjust dates efficiently.
More Classical Kanban
Firetask's Kanban view has originally involved from our previous "Organize" view -- making it seem more complicated for people used to classical Kanban boards. With all the other recent improvements we made to the Firetask task management workflow, we do not need this special behavior anymore. Therefore, we introduced a redesigned, simplified, much more classical Kanban view purely based on task statuses. Columns such as Inbox, Actionable, In-Progress, Completed, and Someday actively support your weekly GTD® review and keep your daily task management organized in a clear and straightforward way.
All Tasks in One Place
With Firetask 4.5 we also addressed the need to view all actionable tasks in one place: the new "Tasks" view replacing the "General" view now not only shows the General task list, but also all other actionable tasks grouped by project. On the Mac we support switching between "General" and "All" in order to facilitate focused inline editing of the General task list.
Keeping Up The Motivation
Keeping us motivated when we have tons of tasks to juggle every day can be hard and frustrating. The new configurable "Completed Recently" section is designed to keep you motivated: it shows all tasks that you have completed today, since yesterday, or the last couple of days in the Tasks view and the project task lists. Also the Today view will show all tasks completed today when showing recently completed tasks is enabled.
Pricing and Availability
Firetask 4.5 is available as a free update for existing users and for new users as a one time purchase from the iOS and Mac App Store. A free 15-day trial version for macOS and additional information is available at https://firetask.com.