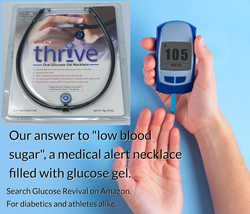 Live your best life with our glucose medical alert necklaces for children or adults, the easy to use solution for emergency hypoglycemic situations.
TARZANA, Calif. (PRWEB) October 21, 2020
Thrive Medical Alert Necklaces are the newest and most innovative product for treatment of minor to severe low blood sugars (Hypoglycemia). The glucose-gel-filled necklace allows people with diabetes to live life without the worry of where to find a source of fast energy when the next low blood sugar event drops. Patients with Type 1 Diabetes need this necklace to avoid the risks of Diabetic Coma when too much Insulin is produced or injected, but low blood sugar swings can also occur with Type 2 Diabetes as well as in those with Metabolic Syndrome.
First Aid Global LLC now has the exclusive rights to sell Thrive Medical Alert Necklaces on Amazon. First Aid Global is already the largest supplier of Transcend Glucose Gels on Amazon and will help grow the Glucose Revival products on their platform.
"We're leaving sales outside of the Amazon realm to Glucose Revival's own website," says a company spokesperson for First Aid Global. "But for those of us who want to use our Amazon Prime Memberships to do our ordering, we've taken over those sales. You can't beat Amazon's free shipping, customer service and easy-return policies, and First Aid Global matches that perfectly as well."
EMT's currently use Glucagon, an FDA-approved drug, to quickly bring a patient out of a diabetic emergency, but not all EMT's are trained in its use and diabetics would have to wait for an ambulance to show up before getting treatment. With the Thrive Medical Alert Necklaces, or the Thrive Jr. Necklaces for children, one can simply pull the necklace off the neck by the magnetic clasp and feed the glucose gel into the mouth. The necklace's fast-acting glucose gel is a food solution and is effective within minutes, even seconds.
The pendant that hangs from the necklace is the Universal Diabetes Alert symbol, a blue circle established by the International Diabetes Federation and was adopted by the United Nations for World Diabetes Day to bring awareness to the growing Diabetes Pandemic.
Live your best life with our Glucose Medical Alert Necklaces for children or adults, the easy to use solution for emergency hypoglycemic situations.