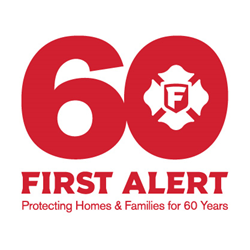 First Alert is helping fire departments nationwide make their communities safer from the dangers of both fire and carbon monoxide (CO) poisoning by donating thousands of alarms.
AURORA, Ill. (PRWEB) July 23, 2018
First Alert, the most trusted brand in home safety*, is helping fire departments nationwide make their communities safer from the dangers of both fire and carbon monoxide (CO) poisoning by donating thousands of alarms.
This June, First Alert held its "60 Years of Thank Yous" sweepstakes to mark the 60th anniversary of the company's founding. 60 fire departments were randomly selected from hundreds of entrants to win 60 smoke or CO alarms to help with community risk reduction initiatives.
The winning fire departments represent a wide array of entries from both municipal and volunteer fire departments coast to coast:
Arkansas

Bussey-Sharman Volunteer Fire Department
Diaz Fire Department
Higginson Volunteer Fire Department
Colorado

Connecticut

Sherman Volunteer Fire Department
Georgia

DeKalb County Fire Rescue
McRae-Helena Fire Department
Illinois

Astoria Fire Department
City of East Moline Fire Department
Elgin Fire Department
Gilman Fire Department
Glendale Fire Protection District
Lena Fire Protection District
Little Wabash Fire Protection District
Marengo Fire Protection District
Normal Fire Department
Oregon Fire Protection District
Otto Township Fire Protection District
South Beloit Fire Department
Spring Valley Fire Department
Western Springs Department of Fire and EMS
Wheeling Fire Department
Winfield Fire Protection District
Indiana

Chesterton Fire Department
Iowa

Holland Fire Department
Ladora Volunteer Fire Department
Morning Sun Fire Department
Tipton Fire and Rescue, Inc.
Kentucky

Danville Fire Department
Haynes Knob Fire Department
Versailles Fire & Rescue
Watts-Caney Volunteer Fire Department
Wolfcoal Volunteer Fire Department
Louisiana

Lafourche Fire District #1 Volunteers
Ville Platte Fire Department
Maine

Mississippi

Philipp Volunteer Fire Department
Nebraska

Morse Bluff Volunteer Fire Department
Schuyler Fire and Rescue
New Jersey

Washington Township Fire Department
New York

Chautauqua Fire Department
City of Plattsburgh Fire Department
Downsville Fire Department
La Fargeville Volunteer Fire Department
Schoharie Fire Department
West Brighton Fire Protection District
North Carolina

Northwest Harnett Volunteer Fire Department
Rutherfordton Fire & Rescue
North Dakota

Spirit Lake Fire Department
Ohio

Felicity-Franklin Fire and EMS
Munson Fire Department
Somerset-Reading Township Volunteer Fire Department
Pennsylvania

Jenkins Township Fire Department
Lehighton Fire Department
Pleasant Valley Volunteer Fire Company
Sharpsburg Volunteer Fire Department
Texas

Burkburnett Volunteer Fire Department
Cy-Fair Volunteer Fire Department
Washington

Spokane Valley Fire Department
Wisconsin

"Throughout our history, we have been fortunate to work with local fire departments and safety officials across the country to help spread awareness of the dangers of smoke and carbon monoxide," said Tarsila Wey, director of marketing at First Alert. "To celebrate our 60th anniversary, we wished to thank these invaluable partners by equipping them with alarms to help them continue the great work they do in their community."
Why It Matters
According to the National Fire Protection Association (NFPA), three out of every five home fire deaths result from fires in homes with no smoke alarms or no working smoke alarms.** The NFPA recommends installing smoke and CO alarms on each level of the home and in or near every sleeping area.
Once alarms are installed, they must be properly maintained by regular testing and cleaning. Homeowners should replace smoke alarms every 10 years and carbon monoxide alarms every five to 10 years depending on the model.
Another critical component of home safety is having – and frequently practicing – an escape plan. As part of this plan, it is important to identify two ways out, have a designated meeting area and ensure everyone knows how to call 911.
For more tips on fire and carbon monoxide safety, visit the First Alert website at http://www.firstalert.com.
###
*First Alert Brand Trust Survey, February 2018 – Results are based on the responses of 1,000 adults, ages 25 and older, living in the United States who completed an online survey, February 15-19, 2018. Results are statistically significant at a 95 percent confidence level and can be generalized to the entire adult population in the United States within those statistical parameters. For more information or a copy of the complete survey results, contact Tim Young at LCWA: 312/565-4628 or tyoung@lcwa.com.
**National Fire Protection Association "Smoke Alarms in U.S. Home Fires" Report, September 2015
About BRK Brands, Inc.
BRK Brands, Inc. (Aurora, IL), is a fully owned subsidiary of Newell Brands. For 60 years, BRK Brands, Inc. has been the manufacturer of First Alert®-branded home-safety products, the most trusted and recognized safety brand in America. BRK® Brands designs and develops innovative safety solutions including Tundra™ Fire Extinguishing Spray, Onelink by First Alert smart home products, a comprehensive line of smoke alarms, carbon monoxide alarms, fire extinguishers and escape ladders to protect what matters most. Such products are also marketed under the BRK Electronics® brand, The Professional Standard for the builder and contractor audiences. BRK Brands, Inc. products are found in more than 30 countries worldwide. For more information, visit http://www.firstalert.com, http://www.brkelectronics.com or http://www.newellbrands.com.
About Newell Brands
Newell Brands (NYSE: NWL) is a leading global consumer goods company with a strong portfolio of well-known brands, including Paper Mate®, Sharpie®, Dymo®, EXPO®, Parker®, Elmer's®, Coleman®, Jostens®, Marmot®, Rawlings®, Oster®, Sunbeam®, FoodSaver®, Mr. Coffee®, Rubbermaid Commercial Products®, Graco®, Baby Jogger®, NUK®, Calphalon®, Rubbermaid®, Contigo®, First Alert®, Waddington and Yankee Candle®. For hundreds of millions of consumers, Newell Brands makes life better every day, where they live, learn, work and play.
This press release and additional information about Newell Brands are available on the company's website, http://www.newellbrands.com.
©2018 BRK Brands, Inc., Aurora, IL 60504. All rights reserved.
BRK Electronics® is a registered trademark of BRK Brands, Inc., Aurora, IL 60504.
NYSE is a registered service mark of NYSE Group, Inc.