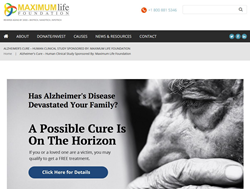 "If successful, this treatment could potentially be used on other diseases such as Parkinson's and ALS."
NEWPORT BEACH, Calif. (PRWEB) December 30, 2019
Cure Now ━ Instead of Palliative Care
According to the Alzheimer's Association:

Alzheimer's disease is the 6th leading cause of death in the United States.
More than 16 million Americans provide unpaid care for people with Alzheimer's or other dementia.
These caregivers provided an estimated 18.5 billion hours of care valued at nearly $234 billion.
Between 2000 and 2017 deaths from heart disease have decreased 9% while deaths from Alzheimer's have increased 145%.
1 in 3 seniors dies with Alzheimer's or another dementia. It kills more than breast cancer and prostate cancer combined.
Alzheimer's costs Americans $277 billion a year – and rising. Sharp increases in Alzheimer's disease cases, deaths and costs are stressing the U.S. healthcare system and caregivers. About 5.7 million Americans have Alzheimer's disease. To date, no one has survived it.
Improvements of AD symptoms and the recovery of normal brain functions have been demonstrated in-vivo in mouse experiments, and in-vitro in human cell experiments through the rejuvenation of microglia (the brain's first line of defense against infection) and neurons as well as stimulating mitochondrial function using the telomerase reverse transcriptase (TERT) protein.
One human patient received a lower dose therapy in August 2018 with no adverse side effects. To date, the patient's disease has not progressed. MaxLife hopes to see symptom reversals in the next patients.
"If we can prove a benefit to patients that have no other option now, we can potentially treat Alzheimer's Disease in people in early to mid-stage Alzheimer's, finally creating effective medicine at the cellular level," states Kekich. "If successful, this treatment could potentially be used on other diseases such as Parkinson's and ALS."
The unique difference is developing treatments against the cellular degeneration caused by aging as the root cause of most major diseases. Studies have proven aging is the leading risk factor for many life-threatening diseases, including Alzheimer's.
With a world class Scientific Advisory Board, MaxLife is ready to push forward into practical solutions. A gene therapy facilitator, Integrated Health Systems plans to treat other adult aging-related diseases with no previous cure such as Sarcopenia, Atherosclerosis, Chronic Kidney Disease (CKD)… and even aging itself with gene therapies.
"This technology could halt many of the big age associated killers in industrialized countries'" states Kekich. "Compassionate care helps patients with no other option to get access to experimental therapies that may benefit both themselves and society as a whole."
MaxLife also seeks grants and donations for human gene therapy studies for atherosclerosis, sarcopenia and chronic kidney disease as well as for human aging. The protocols have already been developed. Please Click Here and scroll to the bottom of the page to see how to donate.
To apply for a free therapy or for more information, see http://www.maxlife.org/alzheimers-disease/ and https://maxlife.org/how-to-register-and-qualify-for-the-alzheimers-human-study/.
For Further Information, Contact: David Kekich, CEO Maximum Life Foundation.
Maximum Life Foundation is a 501(c)(3) Not-For-Profit corporation founded in 1999.
Tax I.D. #31-1656405. David A. Kekich Tel. #949-706-2468. Info@MaxLife.org