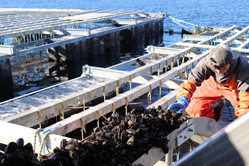 "The Aquaculture Apprenticeship Program is going to springboard Maine high school graduates into fulfilling careers in Maine aquaculture, providing a wonderful opportunity for them to work on the water and for local partner farms to train and hire them." –Christian Brayden, Project Manager
HALLOWELL, Maine and PORTLAND, Maine (PRWEB) November 15, 2022
The Maine Aquaculture Association (MAA) and Gulf of Maine Research Institute (GMRI) today announced the launch of the first state-wide Aquaculture Apprenticeship Program in the U.S., which will provide on-farm training and education for six Maine high school graduates beginning in 2023. The program leverages partnerships with Maine aquaculture farms and is supported by the USDA National Institute of Food and Agriculture. Other partners on the project include Educate Maine, the Maine Department of Labor, and Southern Maine Community College.
"The Aquaculture Apprenticeship Program is going to springboard Maine high school graduates into fulfilling careers in Maine aquaculture, providing a wonderful opportunity for them to work on the water and for local partner farms to train and hire them," said Christian Brayden, Maine Aquaculture Association Project Manager who is spearheading the program.
Apprentices will complete 2,000 hours of on-the-job training in addition to 144 hours of classroom time at Southern Maine Community College. Skills to be learned on the job include safety protocols, vessel and vehicle operation, maintenance of tools and equipment, shellfish and seaweed production and management, crop and animal husbandry, and food safety.
"We are interested in training an apprentice, with the hope that they would stay on as a long-term member of our team," said Shey Conover, co-owner of Marshall Cove Mussel Farm of Islesboro, Maine. "We have experience hiring and training high school and college students interested in gaining experience on the water, and are able to offer training and opportunities for growth within our company," she continued.
Apprenticeship training is distinguished from other types of workplace training by several factors, including paid work experience, classroom instruction, mentorship, and a portable, nationally recognized credential.
"Workforce training programs are fundamental to the sustainable growth of the industry," said Carissa Maurin, Aquaculture Project Manager at GMRI. "Critical feedback from Maine's aquaculture farmers allowed us to identify gaps in existing training programs and create the Maine Aquaculture Workforce Development Strategy where we provided recommendations for developing a robust and cohesive aquaculture training system, including the creation of the Maine Aquaculture Apprenticeship Program," continued Maurin.
Applications are now being accepted for host farms, and high school seniors graduating in 2023 are encouraged to fill out a preliminary interest form. More information is available at maineaqua.org/apprenticeship.
According to the Maine Aquaculture Association, aquaculture in Maine is among the most diverse sea farming sectors in the nation, producing more than 25 diverse species of finfish, shellfish and sea vegetables, more than any other U.S. state. Maine aquaculture has enjoyed responsible growth over the last 20 years at an average rate of 2 percent. Less than 1% of Maine's coastal waters are used for aquaculture. More than 99% of Maine sea farms are family-owned. For more information about leading Maine's beginning aquaculture farmers to a sustainable business future and facts about Maine aquaculture, please visit maineaqua.org.
About the Gulf of Maine Research Institute
The Gulf of Maine Research Institute develops and delivers collaborative solutions to global ocean challenges. Located in Portland, Maine, the institute is dedicated to the resilience of the Gulf of Maine ecosystem and the communities that depend on it.
Twitter | Facebook | Instagram | LinkedIn
About the Maine Aquaculture Association
The Maine Aquaculture Association (MAA) est. 1978, is a nonprofit trade association that advocates for and unites Maine's finfish, shellfish, and sea vegetable farmers in collaboration with commercial fishing colleagues. MAA's mission is to support the state's aquatic growers in developing economically and environmentally sustainable business practices, to promote the benefits of aquaculture in the local food system, and to preserve Maine's heritage of a vibrant working waterfront.
Twitter | Facebook | Instagram | LinkedIn