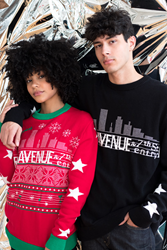 MINNEAPOLIS (PRWEB) November 29, 2018
Just in time for the holidays, iconic Minneapolis music venue First Avenue has released two holiday sweaters. First Ave teamed up with fellow Minneapolis brand Ragstock, known for their eclectic clothing stores and world-class selection of Christmas sweaters, to create the garments.
One sweater sticks to the brand's classic styling, with a black base, white logo, and the famous white stars from the venue's facade adorning the sleeves—including one gold star in memory of Minneapolis' dearly beloved Prince. Although it's described as a 'holiday sweater', this design lends itself well to year-round wear.
The second sweater is more seasonal, with a red base, green contrasts, and a snowflake pattern. If you look closely, you can even see Santa and his reindeer flying over the Minneapolis skyline. Basically, it looks like something you'd expect to find at Ragstock in December.
The ugly Christmas sweater trend is bigger than ever, and the music industry has been no exception. "We've definitely noticed an uptick in bands releasing their own knits," said Zach Nagle, eCommerce Director at Ragstock. "With First Avenue being such a legendary venue, we thought they should have their own sweaters, too."
First Avenue was receptive to the partnership. "We love the idea of being able to share a piece of First Avenue with family and friends over the holidays," said Dayna Frank, owner of First Avenue, "and we don't take ourselves too seriously when it comes to our knitwear."
The black sweater can be pre-ordered now at First-Avenue.com, and will also be available at The Depot Tavern beginning Monday, Dec 3rd.
The red sweater is available exclusively from Ragstock. It can be pre-ordered now at Ragstock.com and will also be available at Twin Cities Ragstock stores beginning Wednesday, Dec 5th.