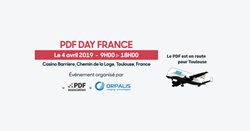 PDF Day France is the first event of the PDF Association in France. Several experts and members of the PDF Association will present the optimal use of PDF for commercial documents, as well as technical aspects of the format.
MURET, France (PRWEB) February 05, 2019
The PDF Association, in collaboration with its French member ORPALIS, organizes the first edition of the PDF Day France. The event will be held entirely in French on Thursday, April 4th, in Toulouse.
The PDF Association aims to promote implementations of electronic documents based on open standards using PDF technology through education, expertise, and experience sharing for parties worldwide.
With digital transformation, PDF is more than ever indispensable for new document management applications. The PDF Day France will host many experts and members of the PDF Association from all over Europe for technical conferences around ISO PDF standards, accessibility, optimization, structure and security of PDF documents. The event is also an opportunity for participants to share good practices in several sectors.
The target audience for PDF Day France is people responsible for input and document management in their companies as well as IT architects and product managers. Developers will benefit from the complete and in-depth PDF knowledge of the PDF experts.
Toulouse is famous for being the home ground of Airbus, which will present a case study around its usage of PDF in their document management environment.
The full agenda and registration information are available here: https://www.pdfa.org/event/pdf-day-france-in-toulouse/.
About ORPALIS
ORPALIS is specialized in automating large-scale document-based processes, providing document imaging and document-management toolkits as well as software tools for the general public. ORPALIS is the creator, developer, and owner of the comprehensive document imaging toolkit series released under the brand "GdPicture," now a worldwide known and respected leader in the imaging technologies industry. More than 13,000 developers based in over 70 countries have included GdPicture components in their applications. In 2011 ORPALIS releases PaperScan, marking the beginning of a new line of products meant for end-users. PDF Reducer is launched in 2013. In 2015 a most powerful universal HTML5 viewer and document management kit called DocuVieware is made available to the public. The same year, a software tool for converting scanned documents to the searchable PDF/OCR format, the ORPALIS PDF OCR, is launched. In 2016 DocuVieware Lite Free HTML5 Document Viewer is released. PassportPDF, released in 2018, is a modern cloud infrastructure offering freemium microservices dedicated to addressing document management challenges of professional and general public users.
orpalis.com/gdpicture.com/docuvieware.com
About the PDF Association
Initially established as a PDF / A Competency Center in 2006, the PDF Association is now an international organization that promotes awareness and adoption of open standards in digital document applications using PDF technology. The association facilitates education, networking, and communication, as well as sharing expertise and experience with interested parties around the world. Current members include more than 110 companies and experts from more than 20 countries.
The board of directors includes industry leaders such as Adobe, Callas Software, Datalogics, Dual Lab, Foxit, Intarsys Consulting, iText, Levigo, Nitro Software, and PDFTron, as well as Peter Wyatt, ISO 32000 project leader. The association is chaired by Matt Kuznicki, Chief Technology Officer of Datalogics Inc. The Executive Director is Thomas Zellmann.
https://www.pdfa.org/