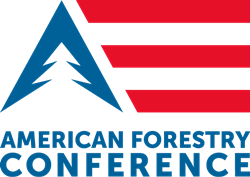 America's working forests and forest product industries are poised to play a critical role in fueling the recovery of the U.S. economy and to continue providing for the ecological and economic health of communities across the United States. -Andres Villegas, Pres. & CEO Georgia Forestry Foundation
FORSYTH, Ga. (PRWEB) July 22, 2020
The American Forestry Conference is bringing together a powerful roster of national leaders and experts in forest business, government, economics and public policy to provide critical insight into America's forestry industry and the outlook for forestry investments.
The conference, which is hosted by the Georgia Forestry Association (GFA), will kick off July 27 with a keynote address from Doug McMillon, CEO of Walmart who will share more about the significance of forest products in Walmart's sustainability strategy. The company plans to use more than 1.1 million cubic feet of mass timber in the new home office campus in Bentonville, AR, making it the largest campus project in the U.S. using mass timber.
The roster of speakers also includes the CEOs of American Forest & Paper Association, DS Smith, Georgia-Pacific, WestRock, and Weyerhaeuser, as well as high profile political and economic speakers, including Rep. Bruce Westerman, Rep. Sanford Bishop, Rep. Kevin McCarthy (Minority Leader), USDA Secretary Sonny Perdue, Ivanka Trump, Governor Brian Kemp (GA), Governor Asa Hutchinson (AR) and Governor John Bel Edwards (LA). The Chief of the U.S. Forestry Service, Vicki Christensen, will join speakers from the American Forestry Foundation, National Alliance of Forest Owners, Resources for the Future, Duke University and the Environmental Defense Fund in a discussion on the future of American forests.
"America's working forests and forest product industries are poised to play a critical role in fueling the recovery of the U.S. economy and to continue providing for the ecological and economic health of communities across the United States," said Andres Villegas, President and CEO of GFA, noting that Georgia is the #1 forestry state in the nation, and forestry is among the state's largest industries generating $36 billion in economic activity annually and supporting 148,000 jobs across the state. "We are thrilled to host this national event, which we believe will shed important insight on the greatest opportunities and challenges for the forest sector."
The conference has a total of 12 sessions including topics such as housing, trade, economics, timber supply and logging. The American Forestry Conference is certified for 16 hours of Continuing Forestry Education Credits certified by the Society of American Foresters. Attendees will have networking opportunities and access to key information that will drive value to forestry and manufacturing assets across the nation.
Learn more and register at americanforestryconference.com