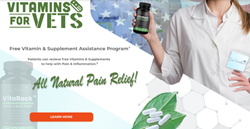 "We are very proud to give back to our community and provide patients with non-opioid pain management alternatives." - Devan A. Patel
TAMPA, Fla. (PRWEB) May 08, 2019
Each year, thousands of veterans suffer lingering injuries and pain from the physical toll of defending our country. Too many veterans lack the financial resources for medical care to ease their ailments. In honor of these heroes, Zen Nutrients is donating $50,000 worth of the company's Condition Targeted Nutraceuticals™ (CTNs) to veterans in need during 2019.
Supplements will be available at no charge or a discounted rate, up to 50 percent off, based on financial need. Zen Nutrients believes increasing access to researched-backed, all-natural, pain-management supplements is an important component of the nation's larger efforts decrease opioid abuse, particularly when dealing with chronic pain.
Assistance programs are rarely offered in the vitamin and supplement industry, and Zen Nutrients is the first industry provider to focus their efforts in support of military veterans.
"We are very proud to give back to our community and provide patients with non-opioid pain management alternatives," said Devan A. Patel, Zen Nutrient's president. "The reality is that vitamins and supplements are not covered by most insurance plans and it's quite expensive for customers to pay for high quality supplements that actually work."
Zen Nutrients developed VitaBack®, the first and most comprehensive nutraceutical for chronic back and neck pain, after countless hours of research and working with clinical pharmacists and pain management physicians. VitaBack® has 19 all-natural, gluten- and GMO- free ingredients that are supported by research to assist with chronic pain and inflammation*.
"I personally witnessed tragedies caused by the opioid epidemic and realized a drastic change needed to occur," said Nick Petrillo, Senior Medical Science Liaison of Zen Nutrients. "There are still high amounts of opioid referrals going on and providers have little to no help with insurance plans covering other therapies to reduce the number of daily opioid referrals."
Customers can feel safe knowing all Zen Nutrient nutraceuticals are made in compliance with the FDA's Current Good Manufacturing Practice (CGMP) regulations. "Think of it as an amazing one-a-day vitamin for back and neck pain," said Petrillo.
Interested customers should visit http://www.zennutrients.com/get-help and complete a quick questionnaire. Each request is subject to approval and fulfillment based on current available resources.
Zen Nutrients products are available through the company website and through select physicians. Products are also available on Nutrivivo, an innovative software platform that helps patients achieve their health goals better, safer and faster.
Financial assistance is available for the entire Zen Nutrients product line, which includes supplements that assist with pain management, cancer support, foot and ankle pain, diabetic neuropathy, surgery recovery, as well as scar and wound healing. For additional information on products and clinical research visit zennutrients.com or email support@zennutrients.com.
ABOUT ZEN NUTRIENTS:
Zen Nutrients is the visionary leader in Condition Targeted Nutraceuticals™ (CTN's). Our pharmaceutical grade, high quality products are developed by trusted pharmacists and physicians. With more than more than 20 years of pharmaceutical and nutritional experience, Zen Nutrients focuses on remedying medical conditions, decreasing side effects and increasing compliance so our customers simply feel better faster. Zen Nutrients has developed five researched-backed CTN's:

VitaBack® -High-potency nutraceutical for back and neck pain support*
Onco-V® – High Potency nutraceutical for oncology support, cellular support and immune booster*
PodiVite® – All-natural nutraceutical for foot, ankle and plantar fasciitis pain and injury support*
Neurazenx® - High Potency nutraceutical for neuropathy, diabetic nerve pain and shingles pain relief support*
WoundVite® - High Potency nutraceutical for scar and wound and post-surgical healing support*
*These statements have not been evaluated by the Food and Drug Administration. This product is not intended to diagnosis, treat, cure or prevent any diseases.