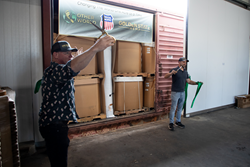 "Today's first shipment by rail is another goal in our company mission of 'Changing the world one acre at a time,' stated Jeff Friedland, co-founder and CEO. "It all starts here by reducing our carbon footprint with railroads instead of trucks. Today's first shipment may be relatively very small com
FRESNO, Calif. (PRWEB) April 21, 2021
Other World Management Inc, along with Golden State Hemp, and Union Pacific, the nation's largest railway with 32,000 miles of track, today loaded the first legal hemp shipment via railroad since the prohibition of hemp, 84 years ago, from Fowler Train Depot. The first shipment of approximately 17,000 pounds of hemp, grown at the 550-acre Golden State Hemp farm in Fresno, California, is expected to be delivered to their Denver, Colorado medical R&D lab. Making the announcement was Golden State Hemp co-founder and CEO Jeff Friedland who was joined by executives from Union Pacific and United States Representative David Valadao's office.
"Today's first shipment by rail is another goal in our company mission of 'Changing the world one acre at a time,' stated Jeff Friedland, co-founder and CEO. "It all starts here by reducing our carbon footprint with railroads instead of trucks. Today's first shipment may be relatively very small compared to our harvest and the millions of pounds of hemp transported by trucks all over the US, but it also marks the dawn of hemp's next revolution in the US."
Since 8,000 BC, the world has been using hemp to make paper and other products essential to everyday life. The first recorded mention of hemp in America was found in 1632. The Virginia Assembly actually mandated "that every planter as soone as he may, provide seede of flaxe and hempe and sowe the same." Massachusetts and Connecticut passed similar guidelines to encourage local farmers to grow and cultivate the plant. According to diary entries, both George Washington and Thomas Jefferson grew hemp on their plantations. Additionally, Benjamin Franklin began one of America's first paper mills using hemp to make paper. The first two drafts of the Declaration of Independence were written on hemp paper in 1776.
Realizing the environmental benefits of hemp including reducing the worlds carbon emissions, the plants biodegradability, and the FDA's approval of Epidiolex, the first drug approved by the FDA containing CBD. The United States Senate passed section 10113 of the 2018 Farm Bill, permitting the transportation of hemp across state borders. Many experts believe that hemp can displace trees as hemp farms can produce 4x more per acre in 5 months rather than 20 years of tree forestation.
Golden State Hemp
Golden State Hemp (GSH), founded in 2019 shortly after the 2018 farm bill legalized hemp in the United States and a subsidiary of Other World Management, is a vertically integrated agri-business with multiple divisions in the hemp space. GSH, with over 550 acres in California and operations and partnerships in six US states, is led by co-founders Jeff Friedland, Chief Executive Officer, and Josh Anderson, Chief Cultivation Officer, who have more than 35 years in the Hemp and Cannabis industry.
GSH has a zero-waste philosophy where every aspect of the plant is used to monetize a variety of revenue streams. From seed to sale, we create high-grade organic hemp products, while transforming the public's perception of the hemp plant's health benefits and environmental sustainability. GSH's vertical integration and love for the hemp plant give customers assurance they are receiving the highest quality products on the market. To learn more, please visit http://www.goldenstatehemp.com.
Other World Management
"Changing the world one acre at a time," privately held Other World Management is dedicated to pioneering the re-evolution of Hemp as we develop new genetics, practice regenerative farming, and harness patented technology to create biodegradable products. We are Building the supply chain of tomorrow while reducing the carbon footprint. Our "Zero Waste" approach allows Other World to utilize every aspect of the plant to monetize multiple revenue streams.
Other World Management is an integrated agribusiness-industrial holding company. Other World has multiple divisions and JV partnerships in the medical and industrial Hemp space. Golden State Hemp is the forward-facing brand for several of these businesses.
Editor's Note: Video and photography from today's 4/20 event is now available and will be updated throughout the day. Editors can visit: Press Kit – GoldenStateHemp