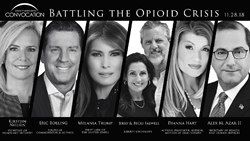 LYNCHBURG, Va. (PRWEB) November 21, 2018
Liberty welcomes First Lady Melania Trump, Political Commentator Eric Bolling, and more to an opioid crisis town hall on Nov. 28.
On Wednesday, Nov. 28, Liberty's Convocation, will feature a town hall discussion of America's opioid crisis. Special guests will include First Lady Melania Trump, political commentator and author Eric Bolling, Secretary of Homeland Security Kirstjen Nielsen, Secretary of Health and Human Services Alex Azar II, and actress, producer, and author Dianna Hart.
Liberty President Jerry Falwell and his wife Becki Falwell will join the discussion, to speak about Liberty University's proactive measures to fight the opioid crisis.
The opioid crisis facing America is a huge challenge. According to the Centers for Disease Control and Prevention, more than 115 people die in the U.S. every day from opioid overdose, and the National Institute on Drug Abuse reports roughly 21 to 29 percent of all patients who are prescribed opioids will abuse them.
Convocation starts at 10:30 a.m. EDT. Liberty will stream the event live on Facebook.
About Liberty University
Liberty University, founded in 1971, is the world's premier Christian university, the largest private, nonprofit university in the nation, and the largest university in Virginia. Located near the Blue Ridge Mountains on more than 7,000 acres in Lynchburg, Va., Liberty offers more than 600 unique programs of study from the certificate to the doctoral level. About 350 programs are offered online. Utilizing its world class infrastructure and Christian faculty, Liberty's mission is to train Champions for Christ with the values, knowledge, and skills essential for impacting tomorrow's world.
CONTACT: Len Stevens
Executive Director of External Communications
(434) 582-7751
ljstevens@liberty.edu