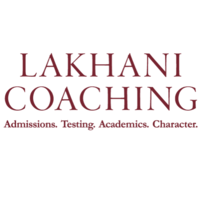 Lisa David could not imagine applying to a top-tier university like GWU, until she met Hafeez Lakhani of Lakhani Coaching.
NEW YORK (PRWEB) January 21, 2020
Lisa David, an Atlanta 12th grader who emigrated from Liberia and spoke no English five years ago, will attend George Washington University (GWU) in Washington, D.C., following nearly two years of free test prep and college admissions counseling from Lakhani Coaching, a globally renowned program that helps students become more competitive college applicants by harnessing their passions and maximizing their academic growth.
Originally expecting to attend Georgia Perimeter College or another Associate's program, David previously could not imagine applying to a top-tier university like GWU, until she met Hafeez Lakhani, Founder and President of Lakhani Coaching.
"My high school counselors were guiding me to local and trade schools because my test scores weren't great and my grades were only slightly above average," said David, who attends high school in an Atlanta neighborhood that has one of the highest concentrations of HIV/AIDS in the United States. "But, when I met Mr. Lakhani, he encouraged me to aim higher, saying he could help me get my grades up and we could find a way for me to not just go out of state, but to get into a top-ranked college."
Lakhani, who started the Lakhani Scholars program in 2018 to help students who otherwise would not have access to high-level, personalized test prep, guidance and college admissions counseling, saw great potential in David's personal story of courage, perseverance and engagement with life.
When Lakhani met David, the scholarship program's first recipient, she was clearly a motivated student and had a full roster of sports (track and volleyball), arts (piano and ballet) and community service.
"Lisa's grades were ok – mostly As and Bs – but even with perfect marks in Chemistry and a broad extra-curricular resume, she would have had a hard time breaking through the admissions gauntlet at most elite schools," Lakhani noted. "But her story – focused on resilience and initiative – is what I knew would take her over the top."
As a "Lakhani Scholar," David received 35 hours of free high school career coaching worth $10,000. This included 11 hours of character coaching and college admissions counseling and 24 hours of SAT/ACT prep. She met with Lakhani regularly via Skype video chat from her school counselor's office because her home WiFi was unreliable – and even that cut out sometimes.
In working with Lakhani Coaching, David's goal was to maximize the quality of her college admissions while garnering as much scholarship money as possible. Over the course of her Lakhani Scholarship, she in fact managed to earn a place on her school's Principal's List, win the Professionalism Award, and make Math and English Honor Roll, having increased her overall GPA from 3.0 to 3.4. These achievements have come alongside a competitive internship at Atlanta's Human and Civil Rights Museum, Varsity Volleyball, volunteering at her church, and even working part time at her aunt's salon. Lakhani notes that this level of initiative, alongside academic perseverance, is what allowed for Lisa's acceptance to GWU, which has pledged to meet 100% of David's financial need toward cost of attendance.
Lakhani's goal is to scale the scholarship program to the point where he has as many scholarship students as those who pay for Lakhani Coaching's service.
"College admissions has become a game of the 'haves' and 'have-nots,'" Lakhani said when introducing the scholarship in 2018. "Students from wealthier families benefit from tremendous support throughout the process. If they use the resources at their disposal, they will have the opportunity to attend a great college. But our cities and rural areas are full of people like Lisa with incredible drive and intelligence, but who lack high-level, one-on-one support. So many of these kids get lost along the way and never make it onto a campus. My goal is to bring as much equity to the system as one business can."
Lakhani Coaching's unique approach emphasizes the "three paradigms" of a fulfilling high school career: academic growth, problem solving skills, and strong character, or personal development, with the latter often becoming the most critical focus. Lakhani and his team work closely with students to identify their true passions in life and coach them on pursuing unique growth experiences related to those passions.
This includes guiding students on selecting courses that will offer appropriate rigor and standardized test preparation by inspirational instructors who scored in the top percentiles on the SAT or ACT exams. In addition, Lakhani coaching works with students to cultivate lists of schools, follow the application timeline, and develop compelling essay topics.
It is the focus on character, however, that distinguishes Lakhani Coaching. The program works closely with students via regular in-person or Skype meetings to identify their passions and channel their time into genuine outside-of-school goals—based on one or two areas of interest—that could anchor a personal narrative and help them stand out in the college applicant pool.
"My goal, eventually, is to have a nonprofit business that can help develop new businesses and new opportunities and jobs for the people back home in Africa. A lot of people there don't have work," David noted. "Thanks to Mr. Lakhani, who helped me tap into my persistent nature, that dream is one step closer to reality."
David is looking forward to starting classes at GWU in the fall.
The second Lakhani Scholar, announced in June 2019, is Fernanda Padilla Colin of Berkeley, CA, who hopes to one day become an immigration lawyer, starting her own firm to help lower-income people and then possibly becoming a member of Congress. She has her eyes set on applying to Harvard or Stanford next year. Lakhani Scholars applications for spring 2020 will open in February.