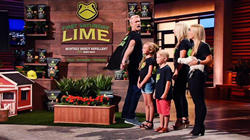 "First Saturday Lime is a completely natural, safe, and strong insect repellent. Our formula was designed to make the world a better place, so we went on Shark Tank to land a shark and let everyone know about our revolutionary product!" -Zac McDaniel, Operations, First Saturday Lime
OKARCHE, Okla. (PRWEB) April 10, 2020
CEO and Founder Jana McDaniel, together with family and co-founders Zac McDaniel and Jessica Jacobs will introduce their eco-friendly pesticide alternative First Saturday Lime to the Sharks of ABC's SHARK TANK™ on Friday, April 10, 2020 at 8-9pm ET/PT on ABC. Along with Jana and Zac's kids Zara and Jennings -- and a couple of chickens -- the team will show the Sharks how this revolutionary product can be used across home, garden, and pet care.
The idea for First Saturday Lime was born in response to the absence of effective pesticide options safe enough to use around kids and pets. Carrying on the legacy of their father, an innovative wheat farmer, Jana and Jessica worked with a chemist to create a new, patent-pending formula of lime that would maximize its desiccant power while stripping away its caustic properties. With just a once-monthly application, First Saturday Lime has the capacity to prevent and destroy odors, bacteria, insects, and their eggs and larvae. Since its launch in 2018, this family business has gained a successful nationwide following almost completely through word of mouth. They strive to empower all their customers to lead more eco-friendly lives. First Saturday Lime is available in 5lb and 20lb bags at http://www.firstsaturdaylime.com.
About First Saturday Lime:
First Saturday Lime (FSL) is the strongest and safest pesticide alternative on the market. Unlike traditional lime, it's safe enough for use around kids and pets, yet strong enough to dry up insects and their eggs and larvae, while destroying odors and bacteria. This is nature's formula—an easy solution that repels pests and protects the lives of loved ones, animals, gardens, and the environment. FSL is a legacy company that found its beginnings in a fourth-generation family farming operation. While trying to find a solution for insect control, its wide array of uses were soon realized. Manufactured in a patent-pending facility in Oklahoma, studies have proven FSL a natural deterrent to insects around home exteriors, on lawns, in gardens; a sanitizing solution for pet and livestock habitats (e.g. kennels, stables, coops, etc.); and a solution to clean and dispose of environmentally hazardous materials and spills. FSL is available in independent retail stores nationwide, as well as on Amazon and through the FSL website.