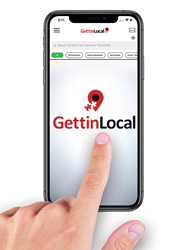 WESTBURY, N.Y. (PRWEB) June 04, 2020
GettinLocal welcomes the reopening of U.S. cities across the country with the launch of the first self-serve ad platform that lets businesses get intuitively discovered by hyperlocal audiences. With features that include email marketing, video ads, SEO and data mining, GettinLocal is a marketing platform that offers unique experiences for both merchants and consumers.
Reaching thousands of customers at any moment based on their location, GettinLocal connects businesses with the right customer at the right time. With no 3rd party OTA (Online Travel Agency) fees, businesses can promote exclusive deals to day trippers, weekend warriors and family vacationers. Getting started is free and easy.
Standard Merchant Features Include:

Creating customized campaigns unique for a business
Reaching new customers daily based on location
Personalizing messages for loyal customers
Tracking ROI and measuring analytics
Premium Campaign Highlights Include:

Premium campaign placement
Customized weekly outbound emails
Push-alert notifications directly to customers
Enhanced analytics to gain optimal customer insight
For consumers, the GettinLocal app is an e-concierge on-demand. From a single view, consumers can curate a hyperlocal experience of things that are new and exciting right outside their door. With the GettinLocal app, users tap into the power of trusted local knowledge to enjoy any city like a local!
"In this dynamic age of digital marketing, web search results often are dominated by larger businesses which invest heavily in making themselves highly visible during web searches," said Peter Daly, Co-founder and COO of GettinLocal. "That's why we have launched GettinLocal. It's a mobile marketing solution that is a game-changer for small businesses. It has been long recognized that small businesses are the backbone of our communities. We're now able to provide local businesses with a quick way to establish their mobile marketing presence."
To learn more about joining the GettinLocal community, visit gettinlocal.com. To start discovering things to do near you, download the free GettinLocal app from the App Store or Google Play.
About GettinLocal
GettinLocal is the first self-serve, mobile marketing platform designed to support local businesses. The app connects businesses with existing customers, creates digital outreach opportunities and helps businesses discover new consumers on a hyperlocal level. The free GettinLocal app provides consumers with access to top deals currently being offered in a specific location. For more information, visit gettinlocal.com