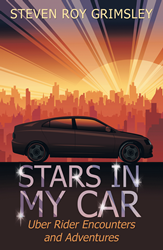 "I thought Uber was a cool new idea that I knew I wanted to be a part of. I really enjoy the novelty of the app and was inspired to write my book because of all the interesting and intriguing stories I would hear from the individuals I would pick up."
ROCKFORD, Tenn. (PRWEB) February 25, 2020
Uber is a worldwide transportation service that is easy to use in just a click of a button. In the newly released book, "Stars in My Car: Uber Rider Encounters and Adventures," Steven Roy Grimsley narrates the exciting experiences he has endured while being a part-time Uber driver. Throughout his thrilling encounters, Grimsley meets a colorful variety of people who come from diverse backgrounds.
When the concept of Uber came to Knoxville, Tennessee, Grimsley knew he wanted to be a part of the app that everyone was using. The author takes readers on an adventure that begins on Halloween night, runs through the University of Tennessee football season and ends during the scorching days of summer. Grimsley recalls driving nearly one hundred riders, including college students, families, homeless people among others.
"I decided to be an Uber driver to fill up my free time when I would end my workday at my full-time job," said Grimsley. "I thought Uber was a cool new idea that I knew I wanted to be a part of. I really enjoy the novelty of the app and was inspired to write my book because of all the interesting and intriguing stories I would hear from the individuals I would pick up. I believe my book will be relevant for a very long time as Uber continues to be a part of many individuals' day-to-day lives."
"Stars in My Car" shares the behind-the-scenes interactions that individuals experience when using the popular transportation service. Readers who have used Uber will be able to resonate with the author as he explains meeting a variety of different people through the app.
"Stars in My Car: Uber Rider Encounters and Adventures"
By Steven Roy Grimsley
ISBN: 978-1-5320-1602-8 (softcover); 978-1-5320-1603-5 (eBook)
Available at the iUniverse Online Bookstore, Amazon and Barnes & Noble
About the author
Steven Roy Grimsley is an employee benefits specialist, audiobook narrator, singer/songwriter and Uber driver. He earned a bachelor's degree in communications from Southern Adventist University. He and his wife, Trisha, live in Rockford, Tennessee. They have two dogs and one cat.
General Inquiries:
LAVIDGE – Phoenix
Grace Bywater
480-648-7534
gbywater(at)lavidge(dot)com