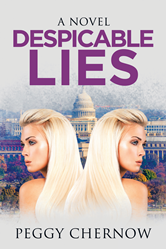 "I wanted to connect with readers by telling a story with a clever plot twist and a warm emotional ending. I turned my experiences into an entertaining, humorous and captivating tale that will hopefully hook many readers."
FORT LAUDERDALE, Fla. (PRWEB) March 02, 2020
The bond between identical twins is unlike any other. In Peggy Chernow's riveting new novel, "Despicable Lies: A Novel," readers will be introduced to Danielle and Darcy Coulter, enchanting sisters who were psychically and emotionally torn apart after a despicable incident occurred at their boarding school.
Fifteen years have passed and the once inseparable sisters from a rich and powerful New York family are now estranged and living separate lives in different cities. Strange coincidences begin to unfold, causing the twins to finally acknowledge the anger and hurt they have been internalizing. These coincidences lead Danielle and Darcy to meet face-to-face at their father's deathbed where they must confront their past.
Throughout the book, readers will experience the strong relationship between Danielle and Darcy and the wedge that broke up their close bond. "Despicable Lies" showcases the power of forgiveness and resilience in family relationships and brings to light that not everything is what it seems. Chernow's creative ideas that molded her debut novel come from her personal experience of growing up in an affluent lifestyle.
"Writing has been a passion of mine for many years. Growing up in the era of charm schools, dancing cotillions and debutante balls influenced my new novel, 'Despicable Lies,'" said Chernow. "I wanted to connect with readers by telling a story with a clever plot twist and a warm emotional ending. I turned my experiences into an entertaining, humorous and captivating tale that will hopefully hook many readers."
By the end of "Despicable Lies," readers will be in awe of the charming story that Chernow beautifully crafts.
"Despicable Lies: A Novel"
By Peggy Chernow
ISBN: 9781684716449 (softcover); 9781684716463 (hardcover)
Available through Amazon, Barnes & Noble and Lulu
About the author
Peggy Chernow discovered her passion for writing in her 70s. "Despicable Lies" introduces Chernow's craft of storytelling. Her creative ideas come from her personal experience of growing up in the era of charm schools, dancing cotillions and debutante balls. The book is influenced by the adversities she experienced, such as attending a strict, all-girls boarding school, coping with her parents' divorce and her mother's early death from cancer. Readers will be in awe of Chernow's stories and will identify with the characters that she brings to life. Peggy plans to release the sequel to "Despicable Lies" before the end of the year and hopes to keep readers entertained by her riveting novels. For more information, please visit http://www.peggychernow.com/home/
For general inquiries, interview & review copy requests contact:
LAVIDGE – Phoenix
Grace Bywater
480-998-2600 x 534
gbywater(at)lavidge(dot)com