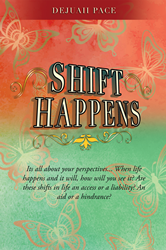 This book will entertainingly enlighten the readers.
ATLANTA (PRWEB) October 13, 2019
Within the pages of DeJuaii Pace's new book, SHIFT Happens ($17.49, paperback, 9781545641927; $8.99, ebook, 9781545641934), readers will find a book about perspective. Life is all about our perspectives. When life happens, and it will, how will we see it? Are these shifts in life an access or a liability? An aid or a hindrance?
"I'm often asked about my family," says Pace. "This book will entertainingly enlighten the readers. Embrace the reality that your family structure will shift. There will be changes. Know and value who you are during each phrase of the shift."
In today's society, many are dictated to because of their surroundings. Get to know God, your creator, for yourself. He alone knows who He created you to be. Knowing God enlightens you to who you are.
DeJuaii Pace found her motivation to author SHIFT Happens during the numerous interviews her sisters and she did on road trips. Often, they were asked, "How is it that you all live together in harmony and what is it like living with so many sisters?" For this reason, she dedicated the first ten chapters to give the reader more depth on each family member personally. When she started writing SHIFT Happens, she questioned God about her very existence and the tormenting thoughts she experienced. She had decided to intentionally live with daily purpose, and in order to do so, was instructed in God's Word to keep her mind stayed on things that were of a good reportt, positive, and about Jesus.
Xulon Press, a division of Salem Media Group, is the world's largest Christian self-publisher, with more than 12,000 titles published to date, SHIFT Happens is available online through xulonpress.com/bookstore, amazon.com, and barnesandnoble.com.