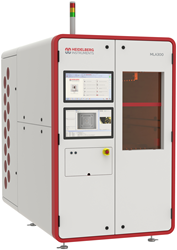 HEIDELBERG, Germany (PRWEB) February 11, 2020
Following the official launch of the Heidelberg Instruments Maskless Aligner MLA300 for industrial production in November 2019, the first two machines have been installed at customer sites in the semiconductor and electronics components industries. Further orders are pending and are scheduled for delivery in Q2 and Q3 2020.
High-throughput production settings can now benefit from all the qualities that have made the Maskless Alignment technology extremely successful in R&D and low- to mid-volume manufacturing. The MLA300 was designed specifically to fulfil industrial requirements such as high exposure speed and full automation and allows the maskless exposure of 300 mm wafers and substrates. It provides a fully integrated solution – complete with production management software and automated loaders – that integrates into production lines and MES-systems.
The MLA300 can be adapted according to specific requirements regarding process, resists, feature size and so on. Its high exposure speed can be increased even more by the combination of more than one (up to four) integrated optic modules. The standard write mode achieves 1.5 µm resolution of isolated features or 2 µm lines and spaces. The system provides perfect overlay and alignment, with the 2nd layer alignment specified as 500 nm.
A core requirement of our first MLA300 customers was a consistently high exposure quality on challenging and warped substrates. This is guaranteed by the tracking auto focus, which compensates for substrate warpage and so ensures outstanding exposure uniformity and repeatability across the entire write area.
The ability to quickly adjust the pattern is a highlight of Maskless Lithography technology. The spatial light modulator effectively acts like a "dynamic mask": The data can be instantly adapted to compensate for distortions or die shift in packaging applications. Automating this process maximizes yield without large design rule tolerances for die shift. Another advantage of the Maskless Lithography technology is that even small series of e.g. legacy products no longer require any additional effort for storing and handling the mask sets.
About Heidelberg Instruments: With an installation base of well over 900 systems in more than 50 countries, Heidelberg Instruments is a world leader in production of high-precision maskless lithography systems. Due to their flexibility, these systems are used in research, development and industrial applications for direct writing and photomask production by some of the most prestigious universities and industry leaders in the areas of MEMS, BioMEMS, nanotechnology, ASICS, TFT, plasma displays, micro optics, and many other related applications. Additional information about the Company is available at http://www.himt.de.
For more details, contact our sales team at sales@himt.de .