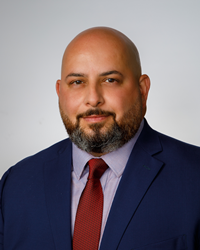 "Tony's understanding of the local market and his business knowledge makes him a tremendous asset to the community and our team." - Alan Mullendore, First United Bank & Trust
FREDERICK, Md. (PRWEB) May 10, 2021
Alan Mullendore, Managing Director of Client Relationships and Tony Roedersheimer, Director of Commercial, welcome Tony Abbas as Community Relationship Manager for the Frederick County Market. The role of the Community Relationship Manager is to manage and deliver customized financial solutions to local business owners and consumers.
Tony began his financial services career in 2008 in the West Chester, OH area as a Personal Banker at U.S. Bank. He also held the position of Vice President and Payments Advisor before relocating to Frederick, MD. He continued working in the business banking arena including Assistant Vice President and Senior Branch Manager and most recently as Vice President and Merchant Services Market Manager.
Tony is a graduate of Xavier University of Cincinnati, OH. He is also Small Business Certified and a previous entrepreneur. Tony is also fluent in Arabic and was a US Bank Pinnacle award recipient.
"The team is excited to be able to provide additional resources in the Frederick County market area. Tony's understanding of the local market and his business knowledge makes him a tremendous asset to the community and our team." commented Alan Mullendore.
Aligning with First United's commitment to serving our communities, Tony was a member in the West Chester Chamber of Commerce and volunteered in many local community events. He was also a volunteer soccer coach for the YMCA, Cincinnati United and FC Frederick.
When Tony is not working or volunteering, he enjoys spending time with family, attending his sons' soccer games, golfing and fishing.
Tony resides in Frederick, MD. His office is located at 150 South East Street, Suite 101, Frederick, MD and you may contact him by calling his office at 301-668-1161 or his cell at 513-827-1932.
First United Corporation operates one full-service commercial bank, First United Bank & Trust. The Bank has a network of community offices in Garrett, Allegany, Washington, and Frederick Counties in Maryland, as well as Mineral, Berkeley, Harrison and Monongalia Counties in West Virginia. First United's website can be located at MyBank.com. As of 3/31/2021, the corporation posted assets of $1.8 billion.