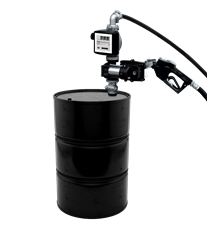 "The mission of our Piusi designers was to create a new and improved fluid handling dispenser that would represent the 60 years of experience and knowledge we bring to the industry."
Fort Lauderdale, Florida (PRWEB) August 25, 2014
PIUSI USA, a Florida based Italian fuel equipment manufacturer, will be exhibiting at the 2014 NACS Tradeshow October 7-10 in booth 7139. PIUSI USA will be showcasing their signature mix of fluid handling equipment, ranging from gasoline pump kits, multi-user management control systems, and turnkey diesel exhaust fluid (DEF) systems.
PIUSI USA is excited to attend NACS and premiere their new Ex-50 gasoline pump kit. The pump features the first internal "B-Tech" bypass valve that opens at higher pressure. This technical modification to their original design guarantees a consistent flow rate without the possibility of pressure loss. The valve engages when the flow rate decreases due to excess pressure. This system allows PIUSI USA to guarantee a flow rate even when the pump is being used with devices that cause resistance such as a filter, meter, auto nozzle, and extended hoses.
PIUSI USA will also be planning product demonstration during this event for both the EX-50 gasoline pump and the new Three25 DEF turnkey system.
The NACS Show brings together convenience and fuel retailing industry professionals for four days of learning, buying and selling, networking and fun — all designed to help participants grow and run successful operations. For industry retailers who are serious about the success of their business, the NACS Show is an event you can't miss.
About PIUSI USA:
Established in 1953, PIUSI maintains its legacy of providing solutions and inspiring ingenuity in the development and design of innovative fluid handling equipment for the management and distribution of DEF, gasoline, oil, and other fuels. The PIUSI U.S.A. team, located in Fort Lauderdale, FL, caters to the United States, Canada and Latin America markets. This extension of the PIUSI SPA family in the United States devotes time and effort in fortifying the bond between American consumers and Italian ingenuity.
For more information visit our website, http://www.piusiusa.com.