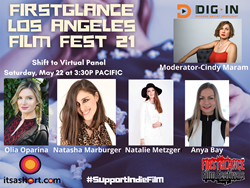 I am thrilled and excited to have such a brilliant group of women on our FirstGlance "Shift to Virtual" panel. Each of them bring a broad range of experience and expertise to the conversation as leaders in innovative filmmaking, original storytelling, and are valued contributors to the film industry
LOS ANGELES (PRWEB) May 20, 2021
Moderated by leading entertainment news, celebrity interviews and movie reviews digital publication, Dig IN Magazine, Founder/Editor-in-Chief, Cindy Maram ("Women Is Losers", "Rude Sleeping Beauty", "Abbathy"), an award-winning producer, as well as a Global Entertainment Digital, PR and Media Executive, will host "Shift to Virtual: A New Reality for the Indie Film Industry & Community" at FirstGlance Film Festival Los Angeles 2021. The panel will be a topical discussion featuring female leaders in the independent film industry and will take place on Saturday, May 22 at 3:30 PT. The informative and key panel will include FirstGlance Best Director nominee director, writer, producer Olia Oparina ("Snowbound", "I Am Normal"), London Independent Film Festival, Los Angeles International Film Festival and Cine-Excess Festival Director and producer Natasha Marburger ("Shallow", "Souls", "Music to Die For"), writer and Spirit Award-nominated producer Natalie Metzger ("Immortal", "Werewolves Within", "The Beta Test", "The Wolf of Snow Hollow", "Thunder Road"), as well as writer, producer, and actress Anya Bay ("Agony", "Snowbound", "I Am Normal").
"I am thrilled and excited to have such a brilliant group of women on our FirstGlance "Shift to Virtual" panel. Each of them bring a broad range of experience and expertise to the conversation as leaders in innovative filmmaking, original storytelling, and are valued contributors to the film industry's new predominantly virtual format," exclaimed Maram when asked how she chose her FirstGlance LA panelists.
"Shift to Virtual" will be a conversation surrounding the industry's recent forced adjustment to a virtual format. This new predominantly online reality has changed the way audiences consume movies, how filmmakers are distributing and releasing films, the rise of streamers in the Hollywood film industry, and what film festivals and entertainment organizations are doing to remain relevant.
FirstGlance has been named five times as one of the "Best Film Festival Investments" and "50 Film Festivals Worth the Entry Fee" by Movie Maker Magazine and takes place in Philadelphia and Los Angeles. The festival will be offered virtually May 13 - 23, but will also host a physical event May 20 - 23 at Laemmle NoHo 7. For the full schedule visit, the FirstGlance Film Festival website and follow @FirstGlanceFilm on Twitter for more information.
To get tickets and your virtual pass, visit the It's A Short website.
All panels are complimentary with the virtual pass.
For inquires contact: cindy@incloseentertainment.com
Cindy Maram
IN Close Entertainment | Dig IN Magazine Founder
http://incloseentertainment.com
cindy@incloseentertainment.com