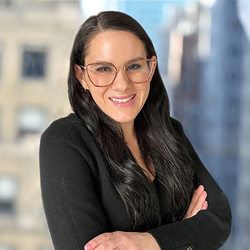 NEW YORK (PRWEB) April 08, 2021
FirstService Residential, New York's leading property management company, announced the promotion of Stephanie Cardello to vice president of compliance. As vice president, Cardello has executive responsibility for the company's expanding Compliance Department which works to keep board members, building owners, and residents of the company's managed properties educated and prepared to comply with new and evolving local laws, inspections, reports and filings required by multifamily properties in New York City.
Since joining the company in 2010, Cardello has established internal education programs that empower property managers to walk hand-in-hand with board members and buildings owners through the intricacies of local law compliance. This includes the tax abatement process for cooperatives and condominiums, facade and gas pipeline inspections, maintenance and filing requirements for elevators and MEP components, and annual safety notices among other critical undertakings.
"Over the last decade, Stephanie has successfully supported and enhanced the operation of mission-critical services provided to our managed properties," said Dan Wurtzel, president, FirstService Residential New York. "This promotion acknowledges her dedication and pervasive industry knowledge which elevates our portfolio of management services."
Cardello also oversees FirstService Residential's Transitions Department and serves as the primary point of contact for every building that transitions management into the New York portfolio. This includes personally meeting with the board members and building ownership throughout the transition process to provide status updates. Our proactive, team-based approach allows our property managers to devote their attention to managing the new property from the start and results in a thorough, professional transition.
In 2019, Cardello was instrumental in the rollout of FirstService Residential's partnership with VIVE, a third-party company that certifies vendors and contractors before work is performed at the company's managed properties.
"As a result of Stephanie's keen attention to detail and her focus on cost-efficient solutions, FirstService Residential is better prepared to guide boards and owners through a multitude of city regulations," said Ben Kirshenbaum, vice president and general counsel, FirstService Residential New York. "Under her leadership, the Compliance team will continue to implement improvements for existing clients, new properties and our internal teams."
Cardello completed her Bachelor of Science Summa Cum Laude in Professional Communications from Farmingdale State College and her MBA in Banking and Finance from Dowling College. Since 2005, she is also a New York State Licensed Real Estate Salesperson.
---
About FirstService Residential
As North America's largest manager of residential properties, FirstService Residential oversees more than 7,000 properties and 1.5 million residential units across 21 U.S. states and three provinces in Canada.
In New York City, FirstService Residential's management portfolio comprises more than 500 rental, condominium, and cooperative properties with an aggregate value of more than $20 billion. This includes more than 70,000 residential units that are home to over 250,000 people in properties ranging from luxury towers and new developments to pre-war landmark buildings and apartment complexes.
With an unmatched combination of deep industry experience, local market expertise and personalized attention, FirstService Residential delivers proven solutions and exceptional service that add value, enhance lifestyles and make a difference, every day, for every resident and community it manages. FirstService Residential is a subsidiary of FirstService Corporation, a North American leader in the property services sector.
For more information, visit http://www.fsresidential.com/new-york