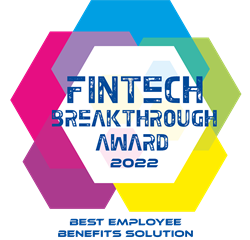 With Retirement as a Service, FIS is transforming how the retirement industry operates at every level, helping providers accelerate growth, increase organizational efficiency and deliver increased value to their plan sponsors and participants
LOS ANGELES (PRWEB) April 07, 2022
FinTech Breakthrough, an independent market intelligence organization that recognizes the top companies, technologies and products in the global FinTech market, today announced that it has selected financial technology leader FIS® (NYSE: FIS), as winner of the "Best Employee Benefits Solution" award in the sixth annual FinTech Breakthrough Awards program, recognizing the 'breakthrough' innovation of the new FIS Retirement as a Service platform.
The recently launched Retirement as a Service from FIS serves as a modern, microservices-based ecosystem that offers a broad range of flexible solutions – from rich CX options, data insights and machine learning, to core recordkeeping – all complemented by IT and business process services.
With a singular modern platform, data is consolidated, making it more manageable, secure and useful. A global data store enables real-time analytics that can be used to improve data-driven decisions. Open integration enables firms to transform their services by creating platform wide connection points. Additionally, the platform employs the FIS API marketplace, offering APIs available across FIS and partner solutions that can be easily subscribed, accessed, augmented and integrated.
Connected and secure digital products, accelerators and innovative solutions serve every stakeholder in the retirement value chain – the participant, plan sponsor and advisor – with product delivery support, innovation services, plug-and-play digital CX, and automation. Key features include: banking and payment capabilities, leading security and fraud prevention and a banking and wealth insights engine.
In addition, the platform's IT support model delivers tech-enabled business processes, application services and infrastructure solutions. With the expertise of FIS, providers can focus resources on their own unique strategies. The business process services function provides transactional, compliance and other back-office processes that every retirement plan provider must administer.
"The retirement landscape is changing quickly, driven by shifting demographics, digital engagement, and evolving workforce norms – and investors are demanding a re-envisioned retirement planning experience as part of their employee benefits package," said James Johnson, Managing Director, FinTech Breakthrough. "With Retirement as a Service, FIS is transforming how the retirement industry operates at every level, helping providers accelerate growth, increase organizational efficiency and deliver increased value to their plan sponsors and participants. Congratulations to the FIS team on their well-deserved award win in our 2022 FinTech Breakthrough Awards program."
The FinTech Breakthrough Awards is the premier awards program founded to recognize the FinTech innovators, leaders and visionaries from around the world in a range of categories, including Digital Banking, Personal Finance, Lending, Payments, Investments, RegTech, InsurTech and many more. The 2022 FinTech Breakthrough Award program attracted more than 3,950 nominations from across the globe.
"We are thrilled to accept this award from FinTech Breakthrough. We really set out to rethink the retirement planning experience for our clients, plan sponsors, advisors and investors with a focus on delivering new efficiencies to reduce costs, increase satisfaction and accelerate digital transformation," said Brian DuVal, president of the US Banking, Wealth and Retirement business of FIS. "The FIS Retirement as a Service (RaaS) delivery model is highly configurable and flexible. Providers can refocus on relationship-based interactions and improving investor outcomes, while eliminating the risk and complexity across their technology and operations management."
About FinTech Breakthrough
Part of Tech Breakthrough, a leading market intelligence and recognition platform for technology innovation and leadership around the globe, the FinTech Breakthrough Awards program is devoted to honoring excellence in Financial Technologies and Services companies and products. The FinTech Breakthrough Awards provide public recognition for the achievements of FinTech companies and products in categories including Payments, Personal Finance, Wealth Management, Fraud Protection, Banking, Lending, RegTech, InsurTech and more. For more information visit FinTechBreakthrough.com.
About FIS
FIS is a leading provider of technology solutions for merchants, banks and capital markets firms globally. Our employees are dedicated to advancing the way the world pays, banks and invests by applying our scale, deep expertise and data-driven insights. We help our clients use technology in innovative ways to solve business-critical challenges and deliver superior experiences for their customers. Headquartered in Jacksonville, Florida, FIS is a Fortune 500® company and is a member of Standard & Poor's 500® Index. To learn more, visit fisglobal.com. Follow FIS on Facebook, LinkedIn and Twitter (@FISGlobal).