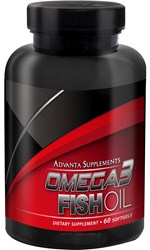 No fishy after taste - and, although fish oil capsules are always bigger than other medications, these are very easy to swallow.
Adel, Ia (PRWEB) November 26, 2013
Advanta Supplements is pleased to announce that their Omega 3 Fish Oil is now back in stock and is available for immediate purchase on Amazon. Introduced just six weeks ago, there has been incredible demand for this amazing fish oil since its introduction to the marketplace.
Specially formulated to help lower cholesterol, Advanta Supplements' Amazing Omega 3 delivers 1,200 mg of Omega 3 per serving, and is certified to be 100% mercury-free. Plus, each capsule is smaller than most other Omega 3 brands, which makes them very easy to swallow. There is also no "fishy" aftertaste, smell or belching that many Omega 3-lovers frown upon.
A spokesperson for Advanta Supplements stated, "We knew based on our research that there was a large demand for an easy to swallow fish oil that worked well and we believe we have developed one that performs as it should. We have increased production to meet this demand and while we have plenty in stock at this time, we are not able to guarantee stock in the future."
Advanta Supplements' Omega 3 Fish Oil is available for purchase from Amazon.com at http://www.amazon.com/Advanta-Supplements-Softgels-Pharmaceutical-Omega-3/dp/B0052N4ROA.
Each 60-capsule bottle sells for $17.67, which is 56% off the list price of $39.95. Plus, individuals who purchase two bottles will receive a third bottle at no additional cost, and their purchase is eligible for Amazon.com's "Super Saver" shipping option.
About Advanta Supplements
Located in the heart of Iowa, Advanta Supplements partners with FDA-approved labs to develop, test, and manufacture a line of quality vitamins and nutritional supplements. All Advanta products are made in the U.S. and backed by a complete customer satisfaction guarantee. Learn more at http://www.advantasupplements.com.