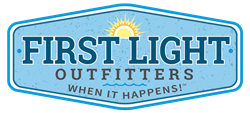 "Our guides have always expressed an interest in selling apparel, however they are deterred by concerns associated with maintaining inventory. ... First Light Outfitters allows these guides to offer branded apparel without worrying about stock expenses or order management."
ORLANDO, Fla (PRWEB) February 20, 2020
AnywhereBrands, parent company of outdoor adventure sites HuntAnywhere and FishAnywhere, is excited to announce the launch of FirstLightOutfitters.com, an online apparel store focused on showcasing branded merchandise from Professional Outdoor Guides. Through on-demand order fulfillment, First Light Outfitters provides outdoor guides with the opportunity to launch an online, branded apparel store with no out of pocket cost and no inventory.
Outdoor Guides will submit their logo to the First Light Outfitters Team at AnywhereBrands along with basic contact and business information to create their online store. Guides in need of a new or updated logo are able to benefit from First Light Outfitters design resource partners. Initial branded product offerings include t-shirts, long sleeve shirts, sweatshirts, hoodies, embroidered hats, as well as youth sizes. Guides will receive a monthly commission payout on sales through their apparel store.
Feedback from AnywhereBrands' charter captains and hunting guide partners was the catalyst for First Light Outfitters. AnywhereBrands CEO, Doug Hughes, commented, "Our guides have always expressed an interest in selling apparel; however, they are deterred by concerns associated with maintaining inventory. You end up with a closet full of 50 shirts, and you're always out of 'medium blues.' First Light Outfitters allows these guides to offer branded apparel without worrying about stock expenses or order management."
Customers on FishAnywhere or HuntAnywhere will be referred to their respective guide's First Light Outfitters store after booking their trip. Outdoor guides also have the ability to refer customers to their online store at any time. Learn more at https://www.firstlightoutfitters.com/.
About: AnywhereBrands is based in Orlando, FL and is dedicated to developing and providing technological innovation and premium customer support to the outdoor travel industry, ultimately increasing participation in outdoor recreation.