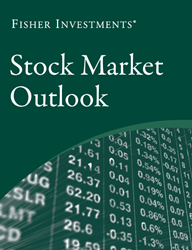 (PRWEB) September 03, 2018
Fisher Investments announced the release of its Q3 2018 Stock Market Outlook, which summarizes the firm's view on global market conditions, geopolitical issues and current events impacting capital markets.
The Q3 2018 Stock Market Outlook details Fisher Investments' views on how markets will respond following the US midterm elections later this year. The firm expects shifts within Congress to be small. In Fisher Investments' view, the two most likely outcomes are a continued small Republican majority in the House and Senate or a split Congress with the Democrats taking the House. A slim Democratic majority in both chambers is possible, but less likely. Regardless of whether the Republicans hold both chambers, lose one or even both, gridlock should remain—which is typically a bullish feature for stocks.
Historically, US stocks tend to rise more frequently after midterm elections than they do during midterm years' first three quarters. Fisher Investments cautions investors against buying into correlation without causation, but the firm believes there is an identifiable cause. Markets generally hate rising uncertainty and love falling uncertainty, and midterms usually reduce uncertainty. The run-up to November usually features wild speculation, pushing uncertainty to its highest. As Congressional races develop and outlandish possibilities dissipate, stocks gradually discount the outcome. As a result, Fisher Investments expects markets to celebrate in relief as 2018 comes to a close.
The firm's Stock Market Outlooks are written under the guidance of its five-member Investment Policy Committee (IPC): Executive Chairman and Co-Chief Investment Officer Ken Fisher, Vice Chairman and Co-Chief Investment Officer Jeff Silk, Executive Vice President of Portfolio Management Bill Glaser, Senior Vice President of Research Aaron Anderson and Senior Vice President of Research Michael Hanson. Collectively, the IPC has over 130 combined years of industry experience and oversees Fisher Investments' portfolio strategies, in-house research efforts, and capital markets technology development.
To receive a free copy of Fisher Investments' latest Stock Market Outlook, click here: https://www.fisherinvestments.com/education/stock-market-outlook
About Fisher Investments
Founded in 1979, Fisher Investments is an independent, fee-only investment adviser. As of 7/1/2018, Fisher Investments and its subsidiaries manage over $100 billion in assets—over $53 billion for North American private investors, over $38 billion for institutional investors and over $7 billion for European private investors. Fisher Investments maintains four principal business units, Fisher Investments Institutional Group, Fisher Investments Private Client Group, Fisher Investments 401(k) Solutions Group and Fisher Investments International Group, which serve a global client base of diverse investors. The clients of Fisher Investments and its affiliates include over 175 large institutions and over 50,000 high net worth individuals. Founder Ken Fisher is a regular contributor to several publications, including USA Today, Financial Times in the UK, Focus Money in Germany, Børsen in Denmark and De Telegraaf in the Netherlands. He has also authored 11 books (including four New York Times bestsellers) on investing and wealth creation.