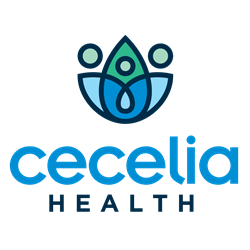 NEW YORK (PRWEB) January 07, 2019
Fit4D Inc., a leading technology-enabled diabetes and chronic disease management company based in New York City, announced today at the 2019 Startup Health Festival that it has changed its name to Cecelia Health. This new company name reflects the company's mission to transform the lives and health outcomes of people living with diabetes and related chronic diseases, and leverage Cecelia Health's unique data-driven insights gained from its personalized coaching platform to optimize health outcomes at an affordable cost.
The new name honors the legacy of a Certified Diabetes Educator (CDE) named Cecelia who transformed the life of CEO David Weingard when he was first diagnosed with Type 1 diabetes at the age of 36. Cecelia inspired him to start a company that provides the same type of expert personalized clinical education, guidance and coaching that David received to all other patients living with diabetes and other chronic conditions.
"Despite having the resources and education to potentially navigate this life changing condition, I realized that I had no idea where to even start." says founder, David Weingard. "It was clear that everyone diagnosed with diabetes needs a Cecelia."
With over 30 million people in the U.S. and 450 million around the world living with this chronic disease, the opportunity to scale David's one-on-one CDE experience presented an exciting opportunity for innovation. Cecelia Health's use of proprietary technology, data and insights scales the personal clinician coach to improve population health and quality measures for members of health plans and ACOs, medication and device initiation and persistence for patients of pharmaceutical and medical device companies, and health and productivity for employees of self-insured employers. Cecelia Health will further the company's capabilities to drive these client goals for optimizing health outcomes by expanding its proprietary technology platform and leveraging the data and insights it has gained from hundreds of thousands of patient interactions.
"We were an early partner of Cecelia Health and have worked together with it for several years to scale and improve the health and well-being of our members. Based on the success we've seen with our members, we're now working with Cecelia Health to offer its services to Healthfirst employees," said Jay Schechtman, Chief Clinical Officer, Healthfirst. "We're looking forward to continuing to work with Cecelia Health to innovate and identify opportunities to benefit from the expansion of its mission."
A new milestone for Cecelia Health in 2019 will also include a new partnership with the Helmsley Trust and the Jaeb Center for Health Research Foundation. "I have been impressed by Cecelia Health's scaled technology coaching model and its use of data-driven insights gained from coaching diabetes patients to help drive our initiative," said Dr. Roy Beck, Executive Director of the Jaeb Center for Health Research Foundation. "We recently partnered with Cecilia Health and the Helmsley Charitable Trust to improve the health of people with diabetes using insulin via the scaled initiation, persistency and interpretation of data for patients using continuous glucose monitor (CGM) devices. This innovative model for access to devices, coaching and data at scale has the potential to transform the landscape for treating diabetes and related conditions."
"This is an extremely emotional moment for me," said Founder and CEO, David Weingard. "Cecelia transformed my life after I was first diagnosed with diabetes and naming the company in her honor reinforces our commitment to provide the same personalized support and deep compassion that she provided me to members, patients and employees of our clients. Cecelia has since passed, but it is incredibly gratifying to showcase her passion for patient care now transforming the lives of hundreds of thousands of people."
About Cecelia Health - (Formerly Fit4D)
Cecelia Health's moonshot mission is to positively transform the lives of people living with diabetes and related chronic disease states.
For health plans and ACOs seeking to improve quality measures, and for pharmaceutical and medical device companies seeking to improve adherence, Cecelia Health is a diabetes and related chronic condition coaching solution that enables Certified Diabetes Educator (CDE) and other expert clinicians to scale their reach and deliver effective, personalized, one-on-one care.
Unlike technology only applications or call centers, Cecelia Health optimizes the mix between expert clinicians and technology and unique data-driven insights to cost-effectively deliver measurable outcomes.
Cecelia Health has also engaged in numerous joint initiatives with the Juvenile Diabetes Research Foundation, American Diabetes Association, the Diabetes Research Institute and the American Association of Diabetes Educators. For more information visit http://www.ceceliahealth.com.