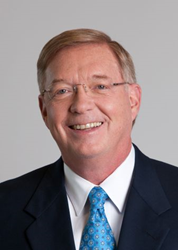 NEW YORK (PRWEB) December 04, 2018
Fit4D Inc., a leading technology-enabled diabetes management company based in New York City, today announced the election of J. Bradley Wilson, currently one of the company's Board Directors, to the role as Chairman of the Board effective immediately.
Mr. Wilson, who joined Blue Cross North Carolina in 1995, held a range of senior-level positions before being asked to lead the organization as CEO in 2010. Previously he practiced law and served as general counsel to Gov. Jim Hunt, directing the governor's legislative strategy and heading his legal department.
Mr. Wilson also served as a Director of the Blue Cross and Blue Shield Association, America's Health Insurance Plans (AHIP) and BCS Financial Corporation. Wilson was also Chair of the Blue Cross and Blue Shield of North Carolina Foundation, an independent charitable organization that has invested almost $100 million in community-based health and wellness efforts.
A lifelong North Carolinian, Wilson holds a bachelor's degree from Appalachian State University, a master's degree from Duke University and law degree from Wake Forest University.
"We are honored to appoint Brad Wilson as Board Chair," said David Weingard, CEO of Fit4D. "Brad's real-world expertise as a healthcare executive, his service on numerous boards, and his passion and commitment to improve patient health, will help Fit4D accelerate its mission to transform the lives of people living with diabetes via scalable, technology-enabled personalized coaching."
"I have been continually impressed with Fit4D's commitment to significantly improve health outcomes for patients and improve quality of care and reduce costs for health plans and providers," said Mr. Wilson. "Fit4D has the passion, patient-driven product vision and team to positively transform the diabetes landscape and I'm excited to help them achieve this meaningful mission."
About Fit4D
Fit4D's moonshot mission is positively transform the lives of people living with diabetes.
For health plans and providers seeking to improve quality measures, and for pharmaceutical and device companies seeking to improve adherence, Fit4D is a diabetes coaching solution that enables Certified Diabetes Educator clinicians to scale their reach and deliver effective, personalized, one-on-one care.
Unlike apps or call centers, Fit4D optimizes the mix between expert clinicians and technology to cost-effectively deliver measurable outcomes.
Fit4D has also engaged in numerous joint initiatives with the Juvenile Diabetes Research Foundation, American Diabetes Association, the Diabetes Research Institute and the American Association of Diabetes Educators. For more information visit http://www.fit4d.com.