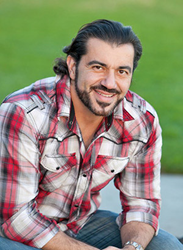 One of the many great things about the boot camp method is that you get very good results very quickly.
Chino Hills, CA (PRWEB) October 17, 2014
When the weather begins to turn cooler, many people tend to set their exercise routines aside. Outdoor activities become less attractive, many sports are put on hold until spring and people tend to prefer cozying up at home to spending an hour or more at the gym. The founder of the international Fit Body Boot Camp franchise says joining a fitness boot camp is a great solution.
"A lot of people do most of their working out outside," says founder Bedros Keuilian. "They run, bike, swim, walk or participate in sports to get their exercise in. But then when the weather turns colder, they become more sedentary."
Keuilian adds that this presents a lot of problems for people who either gain weight during the cooler months and the holiday festivities or who were working toward weight loss leading up to the holidays. But he says that a fitness boot camp can not only be a solution to cool weather inactivity, but can also jumpstart a new, healthier lifestyle.
"One of the many great things about the boot camp method is that you get very good results very quickly," says Keuilian. "The combination of resistance training and high-intensity cardio is a real one-two punch. This really gets people motivated to stick with their workouts and reach their fat loss goals."
Keuilian says that the short duration of workout sessions and flexible session schedules are also a huge draw for clients.
"Most fitness boot camp sessions take thirty minutes or less and we have sessions as early as 5:30 in the morning, so people can get in before work and get an incredible workout, then have their evenings available for holiday events, shopping or just relaxing at home where it's nice and warm."
Keuilian explains that people tend to overschedule themselves during the fall months, with after-school and sports events for their children, holiday shopping and seasonal get-togethers and that this can not only lead to weight gain, but to unhealthiness too.
"A lot of people tend to get down at this time of the year, when they should be feeling happy about the season and spending time with their families," he says. "Exercise produces feel-good hormones called endorphins that can prevent depression, reduce stress and help people feel better about their bodies."
He adds that Fit Body Boot Camp locations are all running seasonal specials and transformation challenges that allow people to try the fitness boot camp method for 2-4 weeks at drastically reduced prices.
"Taking advantage of these special offers is a great way to try the workouts, see how great and rapid the results are and get to know everyone at the boot camp before committing to a long term membership," he says. "It's also extremely inexpensive, which can be important to people who are trying to save money for the holidays."
Keuilian adds that these special offers make thoughtful and inexpensive gifts for family and friends during the holidays. "The gift of a healthier lifestyle and significant fat loss is so much more meaningful than a sweater or a gift card," says Keuilian.
About Keuilian Inc.
Keuilian Inc. (est. 2007) was founded by fitness marketing and business consultant Bedros Keuilian, who has been named the "hidden genius" behind several of the biggest names in the fitness industry. In addition, he is also the founder of the popular fitness marketing blog, PTPower.com, and founder and CEO of the indoor fitness boot camp franchise, Fit Body Boot Camp.
To learn more about Fit Body Boot Camp fitness boot camps, visit http://www.fitbodybootcamp.com/To find out more about Bedros Keuilian and his fitness boot camp franchise, please visit http://www.ptpower.com/ and http://www.myfitbodybootcamp.com/.