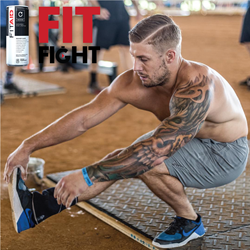 I was most excited to create a custom workout challenge [using FitFight]. The app allows for my creativity to kick in and be unique. Daniel Tyminski
(PRWEB) August 03, 2017
When asked about his inspiration for engaging in athletic conquests, CrossFit Lindy Coach Dan Tyminski said "my main inspiration to compete is to give me a sense of purpose…I like to compete. It's fun and gives me goals to reach for." For the next two weeks Tyminski (@boomsauce39) has given athletes around the world a purpose and goal of their own: earn 10 cases of FitAid for two minutes' worth of work.
Thanks to a simple but brutal challenge designed by Tyminski, winning will not come easy. Male and female athletes will have two minutes to execute as many jumping barbell air squats as possible. Contenders will submit their video through FitFight, a mobile based fitness competition platform owned and operated by fellow combat veteran entrepreneurs. For Dan, the most exciting part of using FitFight—the revolutionary and record-breaking iOS app—was sharing his programming with the world. "I was most excited to create a custom workout challenge [using FitFight]. The app allows for my creativity to kick in and be unique."
Steve Forti, FitFight's CEO, was equally excited to have an athlete of Dan's caliber engaging the global fitness community through the platform. "Dan already challenges and inspires so many people each week through his coaching and programming at CrossFit Lindy on Long Island….and now that his content is on FitFight, he will connect with athletes in over 30 different countries looking for intense challenges like this one."
Forti and his team knew "Tyminski's Challenge" would get athletes jumping, so they found a way to sweeten the deal for the winner. Thanks to the relentless hustle of the FitFight staff, the champion of the event will receive 10 cases of FitAid Recover. The FitAid Recovery Blend provides high quality, clean nutrients to help your body recover after exercise or intense activity—perfect for the man or woman who posts the winning video by August 13th. Commented Forti, "we are deeply appreciative for the support of companies like FitAid who believe in veteran entrepreneurship and innovation. It's with their continued assistance and promotion that we will get many more world class athletes involved in our competitions."
Compete in the "Tyminski Challenge" and other exciting competitions by downloading FitFight: Global Fitness Challenges in the iOS app store today, or by visiting the website http://www.fitfightme.com
Learn more about Dan Tyminski and what he is doing at CrossFit Lindy on "Strong" Island, NY at http://www.crossfitlindy.com/about-us/.
Discover how FitAid can supplement your life style and boost your performance in future FitFights by checking out https://www.lifeaidbevco.com/