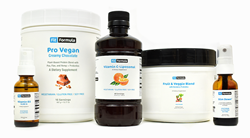 The team at FitFormula Wellness is committed to customer experience, consumer education, and transparency.
HERNDON, Va. (PRWEB) February 11, 2020
FitFormula Wellness, makers of products such as the Cal-EZ Calcium + Vitamin D powdered calcium supplement, proudly announce the addition of five new products to their family of ever-growing vitamins and dietary supplements. All essential in maintaining a healthy body.
Like FitFormula's Classic Unflavored Calcium + Vitamin D, their supplements are simple, pure, gluten free, with no artificial anything. Not to mention, with their quick absorption properties, they're very effective.
The team at FitFormula Wellness is committed to customer experience, consumer education, and transparency. Additionally, the newest items will allow for the advancement of FitFormula's overall mission of helping people to pursue healthy, fit, well-functioning, and strong bodies.
FitFormula's new products are:
● Vitamin D3 Spray - An easy application dietary supplement, used to promote the body's absorption of calcium and phosphorous, which are essential for the development and maintenance of healthy teeth and bones.
● Pro Vegan Creamy Chocolate Flavored Protein Blend - A delicious vegan protein blend of Pea, Flax and Hemp with added probiotic support.
● Vitamin C-Liposomal supplement - An essential, water soluble nutrient that acts as an antioxidant by protecting the body against oxidative stress.
● Fruit & Veggie Blend with Non-Dairy Probiotics - A rich, unique and colorful blend of organic red, green, orange, blue and purple fruits and vegetables. Designed to support the whole body, by providing a reliable source of organic Acacia Fiber, Green Tea, Spirulina, and herbs.
● Slim Down - In scientific and clinical studies, DygloFit has been proven to not only make you feel fuller but also work behind the scenes to help regulate several metabolic processes associated with weight control, fat distribution, insulin regulation, cholesterol, blood pressure, inflammation and free-radical (oxidative stress) management.
About FitFormula Wellness: Jay and son Peter Bua founded the company after a combined 40 plus years in the pharma, fitness, and healthcare industries. They believe in healthy, fit, well-functioning, strong bodies and love helping people live healthier, more satisfying lives.
For more information, visit us at https://www.fitformulawellness.com or email us at hello@fitformulawellness.com.