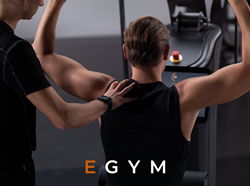 "The roles of fitness professionals in the traditional fitness industry are going to evolve as megatrends like technology, demographics, and rising health care costs have a greater impact on innovation and new health service models. "
BOULDER, Colo. (PRWEB) July 09, 2020
EGYM, a global fitness technology leader providing fitness and health facilities with intelligent hardware and software solutions, announced the third edition of their live expert series: Fitness and the Future of the Health Coach Professional on July 14, 2020, 12:00 PM Mountain/ 2:00 PM Eastern Time (U.S. and Canada).
Due to the recent pandemic, the fitness industry has changed. No longer are members strictly health-focused they are increasingly hygiene-conscious. Understanding the role the new health coach professional will play in the 'new normal' is critical.
"The 2020 pandemic has taught an important lesson for personal trainers and health coaches. The old method of trading time for money face-to-face alone doesn't work and that if one wants to be successful moving forward, they MUST integrate with technology, or they will struggle," said Ted Vickey, Founder and CEO, FitWell.
EGYM, in collaboration with Fitness Industry Technology Council, invites gym owners and operators to an ongoing discussion on recent changes in the fitness industry and the role fitness professionals will play in the future.
Topics will include:

Update on the Latest Reopening Trends
Understanding Fitness Professionals of Today
Understanding Market Opportunities
Understanding the Health Coach of Tomorrow
Enabling Health Coaching Services
Panelists will include:

"In many respects, the future of gyms and health clubs is already here. With the acceleration of digital as a result of the recent pandemic and with changing megatrends that were already underway, operators need to have a strategy around their technology path to help them compete more effectively," Says Bryan K. O'Rourke CEO of the Fitness Technology Council.
For registration and more information, please follow the link to Register Here.
# # #
About EGYM
EGYM is a global fitness technology leader providing fitness and health facilities with intelligent workout solutions. EGYM makes exercising smarter and more efficient with its comprehensive suite of connected gym equipment and digital products that integrate seamlessly with 3rd-party hard- and software. The result is a fully connected training experience that drives measurable business and health outcomes on and off the training floor.
EGYM's global headquarters are in Munich, Germany, with North American offices in Boulder, Colorado.
https://egym.com
About The Fitness Industry Technology Council
The Fitness Industry Technology Council is a not for profit consortium of leading professionals and organizations representing the fitness industry. The council seeks to grow the fitness industry, improve fitness user experience through thoughtful adoption of technologies, and mature the collection of real-time wellness data through the creation of interoperability standards.
FITC's headquarters are located in the New Orleans, Louisiana area.
http://www.fittechcouncil.org/