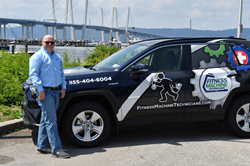 "It's frustrating to get on a piece of equipment at the gym, only to find it's out of order. I'm thrilled to now offer a solution for this all too common problem and help make both patrons and owners happier."
WESTCHESTER, N.Y. (PRWEB) August 13, 2019
Fitness Machine Technicians, specialists in the maintenance and repair of exercise equipment for fitness centers, universities, hotels, and private residences, announced today that it is expanding into the Lower Hudson Valley, NY market. The local owner is Franklin Lee of Tarrytown, NY.
Originally from Southern Idaho, Franklin made his way to the East Coast to attend Western New England University where he received his Bachelor of Science degree in Electrical Engineering with a concentration in computers. He spent his career in software development, honing the skills to open his own business as a technology consultant. Franklin is now excited to open his own fitness equipment repair service, meeting a need in his health and fitness-minded community.
"It's frustrating to get on a piece of equipment at the gym, only to find it's out of order. I'm thrilled to now offer a solution for this all too common problem and help make both patrons and owners happier," says Franklin.
Fitness Machine Technicians offers service/repair and maintenance on a variety of exercise equipment on a contract and non-contract basis. The company is headquartered in Philadelphia and currently operates in multiple markets across the country.
CEO & Founder Don Powers notes, "Franklin is an exceptional businessperson and I'm excited to see where he'll take Fitness Machine Technicians in the Lower Hudson Valley – the need is certainly there."
For more information about having a fitness machine or exercise facility serviced, please contact Franklin Lee at 855-404-6004 or visit http://www.FitnessMachineTechnicians.com/NY-CT-RI.
About Fitness Machine Technicians
Fitness Machine Technicians specializes in the maintenance and repair of equipment for commercial and home exercise facilities. Clients include health clubs, corporations, hotels, condos, education, government and residential homes across the United States. Fitness Machine Technicians also offers franchise opportunities to individuals with an interest in fitness and looking to run a service-based business based on a proven operating model. For more information, visit the website at http://www.fitnessmachinetechnicians.com or call 844-FMT-FIXX.
###