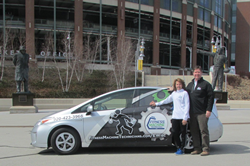 "We're very excited to support our local gyms, hotels, fitness centers, universities, and community members with reliable fitness equipment repair services."
APPLETON, Wis. (PRWEB) June 12, 2020
Fitness Machine Technicians, specialists in the maintenance and repair of exercise equipment for commercial and residential customers, announced it will open its first location in Wisconsin today. Husband and wife duo Don and Traci Keeley of Appleton, Wis. will own and manage the local office.
Headquartered in Philadelphia, Fitness Machine Technicians operates in more than 70 markets across the country and offers service/repair and maintenance on a variety of exercise equipment in fitness centers, universities, high schools, hotels, apartment complexes, corporate gyms and private residences.
Don says, "My wife and I are active fitness enthusiasts and agree there's nothing more frustrating than entering a gym, fitness center, or hotel, and finding unusable equipment. Recently, we actually chose to stay at a hotel because we knew it had a great fitness center. However, upon our arrival, we unfortunately found a recumbent bike out of service – it was definitely a turn-off."
The Keeleys plan to hire local technicians over the next year as the business grows. All technicians are trained at Fitness Machine Technicians' headquarters in Philadelphia. Due to the current COVID-19 pandemic, for the time being, technicians will take extra precautions by wearing face masks, gloves, and using disinfectant wipes when servicing equipment.
Don and Traci both attended Kaukauna High School. Don received a degree in Economics from University of Wisconsin - Madison as well as a Master's in Business Administration from the University of Wisconsin – Oshkosh and Traci earned a degree in Family & Consumer Relations from University of Wisconsin – Madison. Prior to their new venture together, Don worked in the financial services sector for a Fortune 500 company and Traci worked in the health insurance industry as a business analyst.
The Keeleys are active members of their community. Traci is a longtime volunteer at The Harbor House in Appleton and Don serves as a board member at Fox Cities YMCA, as well as a youth mentor with Appleton Area School District.
Traci adds, "We're very excited to support our local gyms, hotels, fitness centers, universities, and community members with reliable fitness equipment repair services."
Since its inception, Fitness Machine Technicians has been committed to delivering reliable service/repair and preventive maintenance services to customers across the nation. With more than 35 years' experience in the fitness industry, Chief Executive and Founder Don Powers created a company that puts its customers first.
Powers notes, "We're looking forward to having Don and Traci open our first Wisconsin location! They're a great team and we know they'll provide excellent customer service to their community."
For more information about having a fitness machine or exercise facility serviced, please contact Fitness Machine Technicians of Eastern Wisconsin at 920-423-3968 or visit http://www.FitnessMachineTechnicians.com/eastern-wisconsin.
About Fitness Machine Technicians
Fitness Machine Technicians specializes in the maintenance and repair of fitness equipment for commercial and home exercise facilities. Clients include fitness centers, corporations, hotels, condominiums, high schools, colleges and universities, government, and residential homes across the United States. Its corporate-trained and authorized technicians are committed to providing the most reliable repair and maintenance services.
Fitness Machine Technicians also offers franchise opportunities to individuals with an interest in fitness and looking to run a service-based business based on a proven operating model. The company's award-winning franchise currently has locations in more than 80 territories across the country. For more information, visit the website at http://www.FitnessMachineTechnicians.com or call 844-FMT-FIXX.
###