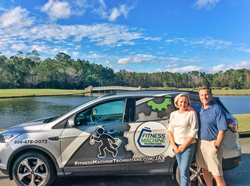 "Our family is ready to start a new venture together – it will be a great opportunity for us to connect with our entrepreneurial spirit and grow a business on Florida's First Coast that helps keep people's fitness equipment fit in order to help themselves stay fit."
JACKSONVILLE, Fla. (PRWEB) January 14, 2020
Fitness Machine Technicians, specialists in the maintenance and repair of exercise equipment for commercial and residential customers, announced it will open in the Jacksonville area today. Chuck Hood of St. John's county and his family will own and manage the local office.
Chuck and his wife Sharon are excited to make this new endeavor a family affair. Their youngest son Josh will have a role as a lead technician along with sales and service duties, and Sharon will help with day-to-day business operations and scheduling. Chuck shares, "Our family is ready to start a new venture together – it will be a great opportunity for us to connect with our entrepreneurial spirit and grow a business on Florida's First Coast that helps keep people's fitness equipment fit in order to help themselves stay fit."
The Hoods have lived and worked in the Jacksonville area for the past 25 years. Chuck has worked in manufacturing, focused on machine automation design, fabrication and production operations, while Sharon has worked as a nurse in various roles and settings. In looking for opportunities to pursue a lifelong dream of owning his own business that would complement his technical background, Chuck found Fitness Machine Technicians to be the perfect fit.
A graduate of University of Tennessee at Chattanooga with a undergraduate degree in Mechanical Engineering and a Master's in Business, Chuck states, "With North Florida's high population growth rate and increasing development of new hotels, resorts, condos, and HOAs with gyms, there's an increasing need for a service that streamlines and optimizes repairing and maintaining fitness equipment to meet the needs of Floridians who expect quality fitness machines to complete their workouts." He adds, "It's our goal to provide the best possible service for those who use, own, or supply fitness equipment throughout the North Florida area for both residential and commercial customers."
Fitness Machine Technicians operates in more than 85 markets across the country and offers service/repair and maintenance on a variety of exercise equipment in fitness centers, universities, high schools, hotels, apartment complexes, corporate gyms and private residences.
Since its inception, Fitness Machine Technicians has been committed to delivering reliable service/repair and preventive maintenance services to customers across the nation. With more than 35 years' experience in the fitness industry, Chief Executive and Founder Don Powers created a company that puts its customers first.
Powers shares, "We're thrilled Chuck and his family are growing Fitness Machine Technicians in their region – it's been our goal from the very start to bring in qualified entrepreneurs to lead our franchises and Chuck's experience in engineering and operations gives me confidence he will succeed."
The Hoods plans to hire several technicians as the business grows. All technicians are trained at Fitness Machine Technicians' headquarters in Philadelphia.
For more information about having a fitness machine or exercise facility serviced, please contact Fitness Machine Technicians Jacksonville at 904-478-0072 or visit http://www.FitnessMachineTechnicians.com/JAX.
About Fitness Machine Technicians
Fitness Machine Technicians specializes in the maintenance and repair of fitness equipment for commercial and home exercise facilities. Clients include fitness centers, corporations, hotels, condominiums, high schools, colleges and universities, government, and residential homes across the United States. Its corporate-trained and authorized technicians are committed to providing the most reliable repair and maintenance services.
Fitness Machine Technicians also offers franchise opportunities to individuals with an interest in fitness and looking to run a service-based business based on a proven operating model. The company's award-winning franchise currently has locations in more than 80 territories across the country. For more information, visit the website at http://www.FitnessMachineTechnicians.com or call 844-FMT-FIXX.